Jason Rivera Torres has 'Swagger' on and off the court
Kimberly N. Fields | 3/23/2023, 6 p.m.
When it comes to Jason Rivera Torres, he's all about a full court press.
At 6 feet 7 inches and 185 pounds, Jason is a senior at John Marshall High School, where he plays guard for the school's basketball team. The John Marshall Justices, ranked No.1 regionally and nationally in basketball, recently nabbed Virginia's state championship.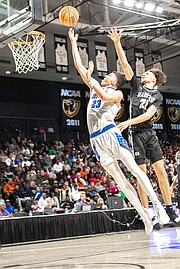 Off the court, Jason is also winning in the Apple TV original series, "Swagger."
His character is Nick Mendez, a young teen from Puerto Rico who relocates to America determined to make it to the NBA. Along his journey, he forms a relationship with a corrupt coach who wants to foster Nick for his own gains. "Swagger" is a basketball drama with a focus on teens who all want to make it, but face social and environmental issues like racism and misrepresentation.
Nick and Jason share the same passion, and with that passion comes similar adversities.
"We are a lot alike," said Jason. "We are both Puerto Rican, and want to make it to the NBA I have been in the AAU [Amateur Athletic Union] circuit and have seen corruption amongst the youth and faced adversities."
As an athlete, he's had to deal with a lot of favoritism, he said. It's only made him work harder to prove why he deserves time on the floor and display that he is a top player.
Jason relocated from the Bronx, N.Y., to Richmond by way of Cumberland, Md. Starting off at Iona Preparatory in New Rochelle, N.Y., he made his way to Bishop Walsh School in 2021 before transferring to John Marshall High. While hoping to benefit from his athleticism, he also is pursuing an acting career. Living in Richmond allows him to be on set when he is needed for filming.
While Jasons averages 15 points, eight rebounds, four steals, five assists and two blocks per game, he's also maintains a 4.05 GPA. When filming, Jason endures long days of acting, basketball practice and school. In addition, he loves to dance, be with his family, play video games and crack a joke or two in order to make people smile.
How does he manage to do all of this? With an amazing support system, he says.
His mother, who instilled a sense of time management in him, along with his brother, coaches, team mates and friends who all motivate and support him.
He also pushes through by following the three P's Coach Ty White drilled into him by John Marshall basketball Coach Ty White.
"Prepare, pray and then perform. Do those three things in life."
Jason says: "I prepare by practicing what I'm going to do in the game and how I'm going to do it. Then pray to God each and every day because, you know, he's everything and he blesses you with everything. So you pray and then you perform. You're not nervous because you just prayed and you prepared."
Mr. Rivera Torres has offers from 12 colleges, including Hampton University and George Washington University. He has not made a commitment yet.