New plans in place for 2 Richmond cemeteries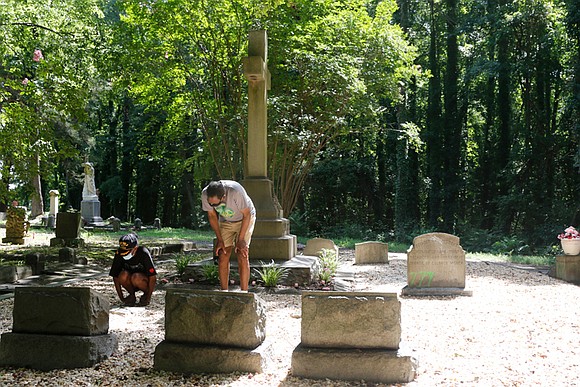 Richmond is getting a thumbs up from the community for its plan to take over the historic Evergreen and East End cemeteries on the city's East Side, but only if volunteer groups are kept in the loop.
As the Free Press first reported, the city has signed a letter of intent to accept the cemeteries that previously belonged to the now defunct Enrichmond Foundation, which collapsed last year, once the titles are cleared.
The city also promises that this will be a collaborative effort with volunteer groups such as the Friends of East End, which has been heavily involved in clearing overgrown vegetation from that cemetery, and The Descendants Council, whose members have relatives buried in the two Black cemeteries.
City Councilwoman Cynthia I. Newbille, 7th District, and Christopher Frelke, the city's director of Parks, Recreation and Community Facilities, met with more than 40 people Saturday to offer assurances that nothing would be done without them.
"We don't want a plan that is our plan; we don't want a plan that is the administration's plan; we want a plan that involves directing us," Mr. Frelke said, though he noted that substantial legal work is still needed to remove Enrichmond and a private company it created, Parity LLC, from ownership.
To show good faith, Ms. Newbille said a council resolution that she has introduced supporting the administration's proposal to take over those cemeteries would be rewritten to include a pledge that the volunteers would help plan the two burial grounds. She promised the rewritten resolution would first be shared with the volunteer groups before going to the council. She also said that could delay council consideration until November.
Meanwhile, the city could face significant expenses in absorbing the cemeteries that are the last resting place of Richmond greats like nonprofit administrator and businesswoman Maggie L. Walker, newspaper editor John Mitchell Jr. and lawyers, doctors and educators.
Brian Palmer of the Friends of East End and others said that once ownership is untangled, the city would need to do a cultural survey of both sites to provide the information on which a plan could be based.
Such an in-depth survey could cost $2 million or more, Mr. Frelke said.
Kevin Banks, owner and operator of American Burial Services, separately said that the maintenance and restoration of the cemeteries also would not be cheap.
He estimated that it could cost $3 million a year to properly maintain the cemeteries, remove overgrowth, and restore graves that have sunken or been damaged since the cemeteries were established. "If you want to do it right, it's going to take resources," he said.
The 60-acre Evergreen dates to the early 1890s, while the 16-acre East End that abuts Evergreen, began operations in 1916. Given that both cemeteries are considered full, the city would need to find a way to deal with potential expenses.