Black voices and stories celebrated during Richmond's recent Afrikana film festival
Debora Timms | 9/28/2023, 6 p.m.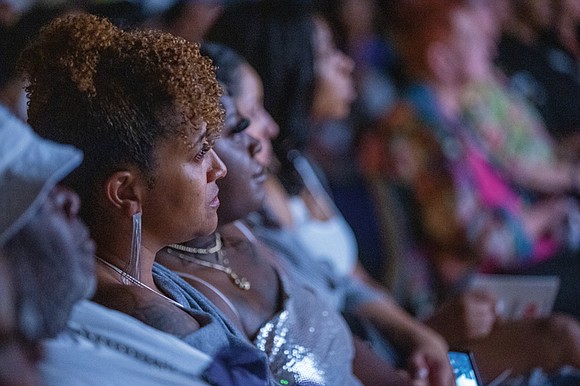 During the The 8th Annual Afrikana Film Festival Sept. 14-17 in Richmond, stories of Black and Brown people were told through a global lens with more than 50 films, several workshops, panel discussions and dining events.
Weeks after the festival ended, its founder Enjoli Moon shared her thoughts about this year's event and her vision for its future.
RFP: What was the inspiration and motivation behind starting the Afrikana Independent Film Festival?
Ms. Moon: The initial inspiration came from what I call a divine download. I received a really clear vision for a film festival. While I initially thought it strange since I don't have a background in film, I quickly saw the value of having a space dedicated to Black diasporic storytelling here, in the birthplace of the Black American experience, especially at a time when the city was in deep transition and establishing itself as an arts and culture city.
In 2013, there was a real tide shifting in how Richmond looked and felt, and what it represented. But what we didn't see at the time was a lot of reflections of Black Richmond, which represented more than half of our population. Afrikana allowed an opportunity for me, as a Richmond girl born and raised, to put a drop in that bucket and help balance the scales on some level.
RFP: Now in its eighth year, how has the festival grown and evolved since its inception?
Ms. Moon: One of the biggest pivots that we made was becoming a multi-day festival. When we started in 2013-14, we were a film series that hosted one short film, once a month, at an art gallery in the city. Because of the warm reception and desire for stories outside the mainstream, we were able to expand into the multi-day festival in 2016. Since then, it's been interesting to watch the foundational pillars of the festival form, allowing us to be consistent, but also giving us the space we need to expand our programming and stretch a bit. One of those examples can be seen in our Taste of Liberation Dinner, which we established in 2021.
RFP: What were some of the highlights of this year's festival?
Ms. Moon: This year's festival was beautiful! We continued to stretch and expand our programming and bring something fresh to the city that we hope they loved. To continue the conversation on the Liberation Dinner, we hosted our third iteration with our celebrity chef-in-residence, BJ Dennis out of the Gullah Geechee region of South Carolina. Tarriona "Tank" Ball of Tank and the Bangas also joined us in conversation around their PBS docuseries "Rituals" and blessed us with a musical performance.
We also hosted a special focus on the connections between South Africa and the U.S. South through our "Sawubona: A Tale of Two Souths" programming, hosted in collaboration with the ICA at VCU.
Afrikana also stepped into new and exciting territory this year as we presented the world premiere our first Afrikana Films production, "Ninki Nanka," a short film that was birthed through our inaugural script-to-screen filmmaker residency hosted earlier this year. (The film is described as exploring a teen's attempt to escape a challenging home situation and encountering an otherworldly being.) The writer and resident, revel denkyhem, was selected through a screenwriters competition for BIPOC filmmakers we hosted last year. We partnered with the Viz Arts Center to host the residency and Oakwood Arts and VPM partnered on the film's production. The film was directed by award-winning filmmaker, LeRon Lee.
And of course, we stayed true to our roots by taking over the RVA Arts District once again and hosting a myriad of films at different partner art galleries throughout the city.
RFP: Why is an independent film festival such as Afrikana important to Richmond and globally?
Ms. Moon: I think one of the reasons is because we represent the state's only Black-owned and focused film festival. In an area that is home to the Black American story, having a place where our voices and our energy are authentically embraced is extremely important. We're in a time now where lots of spaces are expanding and creating initiatives to ensure that more diverse voices are represented, which I think is important and a necessary evolution. But I also think that there is something to be said about having FUBU (for us by us) spaces — spaces that are designed for us and by us (in a city built for us) where all are welcome. Afrikana hopes to represent that for Richmond, and in the global festival landscape as well.
RFP: What are your plans for next year's festival? Ms. Moon: Stay tuned!