Council: Sheltering the unsheltered during Ophelia did not work well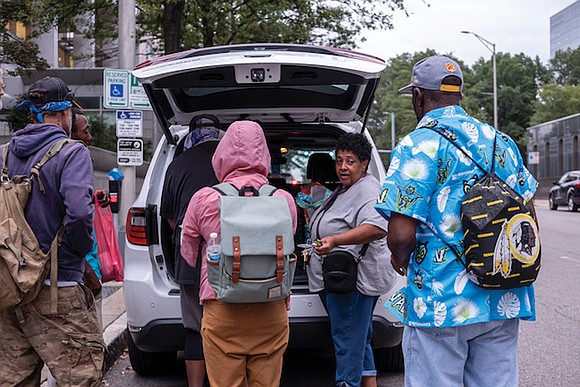 Richmond is rated by the National Weather Service as a storm-ready community.
But when Tropical Storm Ophelia was about to hit, the city's emergency shelter seemed less than prepared to provide a refuge for people like Robert Harrison, 23, and Ron Thomas, 38, who are homeless.
Just hours before the storm arrived, City Hall was announced as the last refuge for those without a place to stay on Friday.
But when Mr. Harrison and Mr. Thomas arrived, they were among the people being turned away around 5:30 p.m. because there was no more room.
"I was told the shelter was at capacity, and I had to leave," Mr. Thomas told a Free Press reporter. "I've never been to City Hall before. I wanted to bring some friends with me, but now I don't know what we're going to do."
Reporters who went inside were not allowed to take photographs or stay. The shelter was set up in a former restaurant space on the Broad Street side of the building. People could be seen sitting in chairs at tables. Food was brought from the City Jail. No cots or sleeping bags were visible.
The space also was limited. Initially, the city said there was space for 30 people.
Traci Deshazor, the deputy chief ad- ministrative officer for human services, said ultimately 40 single men and single women were served. Adults with children were turned away.
She said she was proud of the work done for those who did get in. She did not speak about any efforts to help those who could not in a storm that dropped three inches of rain from Friday through early Sunday.
At the council's Public Safety Committee meeting Tuesday, both homeless advocates and members of the council were critical of what appeared to them to be a slapdash, last-minute effort to provide some shelter for a few people, with others being left in the lurch.
A video post that Rhonda Sneed, co-founder and leader of the homeless services group Blessing Warriors RVA, filmed at least 10 people trying to shelter on the porch of Richmond's Main Library as rain poured down.
"Once again we were behind the eight ball, being reactive instead of proactive," said Blessing Warriors volunteer Bridgette Whitaker, who was at City Hall on Monday evening.
"We could have done better," said Nancy Wilson, another volunteer with the group. "This is supposed to be a city of compassion. I didn't see that."
Eighth District Councilwoman Reva M. Trammell, who chairs Public Safety, said that City Hall is not the place to set up a shelter as it lacks the basics, including medical services and a place to prepare meals.
"We have been here not once, not twice, not three times, four times or five times. This is the seventh time," said 5th District Councilwoman Stephanie A. Lynch. "We have all been in a predicament where we are facing a very serious weather event that could cause harm to the unhoused, very medically vulnerable people."
As was the case before, "we did not have a plan for it."
Third District Councilwoman Ann-Frances Lambert and Council Vice President Kristen Nye, 4th District, also expressed dismay at the inability of the city to be ready even though officials knew the storm was coming days before it hit.
Ms. Lambert wondered why there wasn't a plan in place already instead of city officials scrambling at the last minute.
Ms. Lynch and Ms. Nye both argued that the city should have a shelter set up and ready ahead of the storm. "We'd rather get it stood up and then shut it down if the storm doesn't hit, than throw something together at the last minute," Ms. Nye said. "That is not a good solution."
Stephen Willoughby, city director of emergency communications, preparedness and response, could offer little explanation.
He said a plan is being created and would be presented to the council. He said he is helping to write the criteria that would trigger the opening of an emergency shelter during a huge weather event, high heat or freezing cold. He did not offer a specific date when the plan would be ready.