Trojans big man Bruno super sizes offense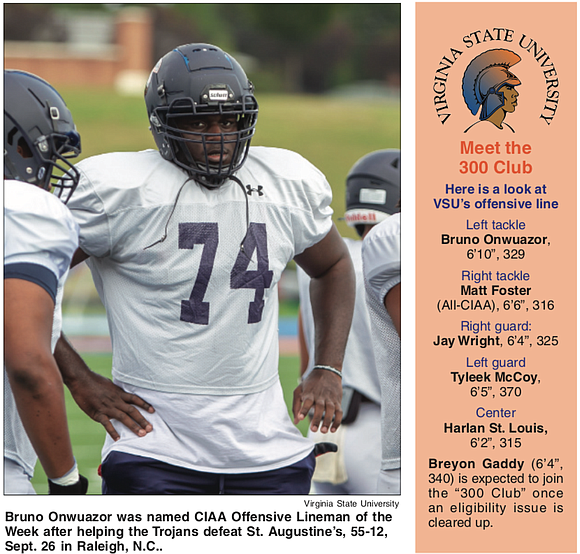 All capital letters and an exclamation point are needed to describe Virginia State University's offensive left tackle.
Bruno Onwuazor is not just big; he's BIG!
The sophomore stands 6-foot-10, weighs 329 pounds, wears size 18 shoes, has hands the size of dinner plates and fills up an entire doorway passing through.
Asked about buying clothes, he said "I just get the biggest stuff they have."
There's talent to go with those imposing physical dimensions.
Onwuazor was named CIAA Offensive Lineman of the Week after helping the Trojans defeat St. Augustine's, 55-12, Sept. 26 in Raleigh, N.C.
Coach Henry Frazier III's team rolled up 24 first downs and 390 yards total offense, 198 of it as the result of crunching ground game.
"Bruno has begun to show the aggression on the running game that we've been looking for – lots of pancakes (blocks)," Coach Frazier said.
"But what you need to know about Bruno is that he's not just big – he's very athletic."
About the only thing that is not super-sized about Onwuazor is his surprisingly svelte waistline.
Coach Frazier, a former Bowie State coach, steered Onwuazor first to the University of Maryland in 2021 before luring him to Ettrick last year.
It's a compelling story that starts in Nigeria.
Born and raised on the African continent, Onwuazor moved with his family to Maryland in 2016.
"I'd never heard of football until I got here," he recalled.
Under Coach Brian Brooks at Charles Herbert Flowers High in Springdale, Md., he sparkled in basketball (averaging 10 points, 13 rebounds as a senior), but never put on a helmet or shoulder pads.
That earned him a hoops scholarship to Na- varro College in Corsicana, Texas, but he never suited up for the two-year school.
"That's when I decided to change focus," said Onwuazor of switching to the gridiron.
Coach Frazier at the time was Director of Leadership and Character Development at the University of Maryland.
Onwuazor made the Terrapins roster but was redshirted and never took the field.
Enter Coach Frazier, again, with help of his long-time friend, Brooks, at Flowers High.
By 2022, Coach Frazier had become the VSU coach and awarded Onwuazor a full scholarship and orange and blue jersey No. 74.
Last season, at age 21, he played his first football game, getting into seven contests with the Trojans.
"With the experience, I'm way better this year," he said. "I feel like I have a big upside. Now I'm trying to impose my will."
As intimidating as his appearance may be, and as rugged as he is between the lines, the computer science major is softspoken and modest.
He seems like the kind of person who'd walk a block out of his way to avoid the possibility of stepping on an ant with those size 18's.
"I'm mostly a shut-in," he said. "I pretty much stick to myself playing video games – a lot of Atari."
Onwuazor, while admitting his 6-foot-10 listing is "with my cleats on," may be the nation's tallest player.
The tallest in NCAA or NFL history was 7-foot Richard Sligh, a defensive lineman for the Oakland Raiders in the late 1960s. Sligh reached the NFL out of North Carolina Central, then a CIAA affiliate.
The NFL's tallest current player is 6-foot-10 Dan Skipper, an offensive lineman for Detroit.
Onwuazor's goal is not just to rank among the CIAA's largest players but to ascend to All-CIAA status and help the Trojans claim a title.
That would make the biggest news of all in Ettrick.
---
There is some disheartening news in the VSU camp. Running back Upton Bailey, who rushed for 214 yards in the opener at Norfolk State, is lost for the season with a leg injury.
The offense will try and compensate with a tag team of backs, including freshman Jimmyll Williams, who had 75 yards on six carries at St. Augustine's.