Charles City native a first at state's executive mansion
Joey Matthews | 7/3/2015, 2:49 p.m. | Updated on 7/3/2015, 2:49 p.m.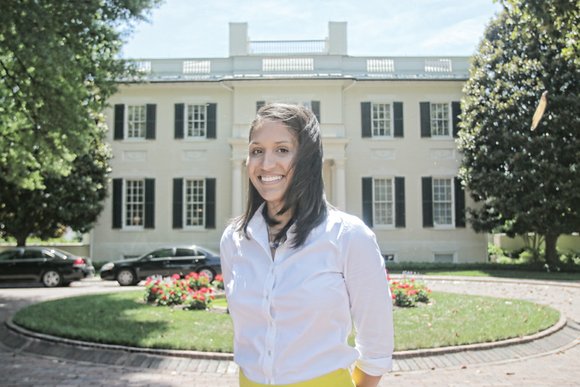 Kaci M. Easley is carrying on a proud family tradition of public service.
Her late maternal grandmother, Iona W. Adkins, served as clerk of Charles City County Circuit Court from 1967 to 1988. She was the first African-American woman to be elected clerk of a court of record since Reconstruction. The Virginia House of Delegates honored her in a resolution shortly after her death in 2004.
Her mother, Mona Adkins-Easley, was named director of the Virginia Council on Human Rights under former Gov. L. Douglas Wilder.
Ms. Easley, 27, has stepped into her own place in history as the first African-American to serve as executive director of Virginia's Executive Mansion.
Gov. Terry McAuliffe appointed her to the position in April.
"It's very humbling," she says. "I feel honored.
"I come from Charles City County, a rural area," she adds, "and being able to represent my county, it's very emotional for me to think about sometimes. I just work hard to try and do a good job for everyone."
The 2006 Hampton University business graduate previously served as assistant to the Virginia secretary of natural resources, as a program analyst in the U.S. Department of Agriculture, as a project manager at the National Finance Center and as an administrative officer at the USDA's Natural Resources Conservation Service.
"I want to help support Gov. McAuliffe's goal of giving opportunities to all individuals in the state and making Virginia open and accessible to people from all walks of life," Ms. Easley said of her new post.
She oversees a staff of five full-time employees at the Executive Mansion, which has served as home to Virginia's governors since 1813. It is the oldest continually occupied Executive Mansion in the United States. Gov. McAuliffe is the 55th governor to live there.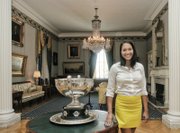 Ms. Easley and her staff take care of Virginia's first family and host dozens of events and receptions.
She said most of her days at the mansion start about 9 a.m. and can extend "late into the night."
"My goal is to make sure the first family is happy and have what they need," Ms. Easley said.
She describes Gov. McAuliffe and his wife, Dorothy, as "very fun-loving people, very energetic and very passionate. They have Virginia's best interest at heart."
And the governor is very easygoing. She recalls one morning when Gov. McAuliffe walked into the "downstairs kitchen and made a quick breakfast" for visiting French Air Force Gen. Jean-Paul Paloméros, the current Supreme Allied Commander Transformation with NATO.
Ms. Easley said she was "honored" to assist Mrs. McAuliffe in spearheading the project that led to the unveiling last week of the portrait of late Richmond civil rights attorney Oliver W. Hill in the Executive Mansion.
Ms. Easley said she also has worked with the first lady on "greening" the mansion.
She cited the installation of sensory lights designed to preserve energy. She talked about using compost in the vegetable garden in the back of the grounds.
Ms. Easley also supports Mrs. McAuliffe's efforts to promote programs designed to encourage healthy nutrition among Virginia's families and children.
To that end, the first family has a chicken coop behind the mansion where the first flock lays eggs. There's also a greenhouse "to show children that gardening can be fun," Ms. Easley said.
She credits her faith in God — she's a member of St. John's Baptist Church in Charles City County — and her family, particularly her mother, now an assistant vice president of human resources at Norfolk State University, for serving as role models in her life.
"They have pushed me and challenged me," she said.
As for future aspirations, Ms. Easley said the sky is the limit.
"I really haven't figured out what I want to be when I grow up," she said with a laugh. "I love this position and I have a passion for event planning and politics. I'm just happy where I am in my life right now."