'War Room' bridges racial divide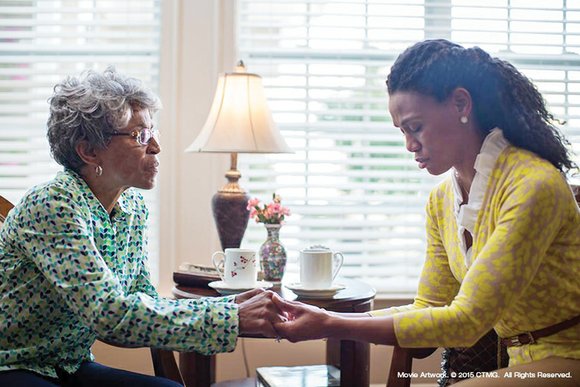 Dr. Martin Luther King Jr. once said, "It is appalling that the most segregated hour of Christian America is 11 o'clock on Sunday morning."
That truism also largely is the case for U.S. audiences that attend Christian-themed films.
While Bishop T.D. Jakes' series of films based on his "Woman Thou Art Loosed" novels and other Afro-centric Christian movies have been popular with African-American audiences, few white people of faith have supported them.
Similarly, the compelling faith-based films from brothers Alex and Stephen Kendrick, who are white, and Christian movies with mostly white casts have largely attracted white audiences.
Enter "War Room," which is centered around an African-American family that is on the verge of collapse. The family's wife and mother is a Realtor who agrees to sell a home for an elderly black woman, who turns out to be a prayer warrior that helps steer the family back to a deeper faith and a redemptive path.
The Christian-themed movie not only is knocking down racial barriers that have long separated black and white Christian filmgoers, but also is making big gains at the box office.
The Kendrick brothers' film stunned box office watchers when it debuted Aug. 28 at No. 2 among all Hollywood films with ticket sales of $11 million that weekend.
Released by the Affirm Films division of Sony Pictures, the film was produced for about $3 million. To date, "War Room" has grossed more than $63 million, drawing mostly positive reviews from audience members of all ethnicities.
Posts on the "War Room" Facebook page note that black and white people attending the movie separately were so moved by the film that they joined hands afterward in movie lobbies to pray together. Others have vowed to cast aside their racial differences to seek a tighter bond with all those who share their faith.
A diverse group of about 20 people gathered at Bow Tie Cinemas on The Boulevard at a matinee Sunday afternoon to view the film.
Afterward, many sat in silence, wiping tears and taking a few minutes to reflect on the film's powerful redemptive message.
"I give it five stars," said George Mendee, 45, a white Richmond resident who works as a courier. "It gives you the message that God's in control of everything. It shows you that we're all God's children."
Cheyenne Nicholson, 24, an African-American employee of the Henrico Department of Social Services, was seeing the movie for the second time.
"It's a powerful movie that shows the power of God."
She said, "When it comes to Jesus, all social and racial issues that go on … they don't matter at all. It speaks to us all."