Sharpton on GOP: 'They entertain you with foolishness'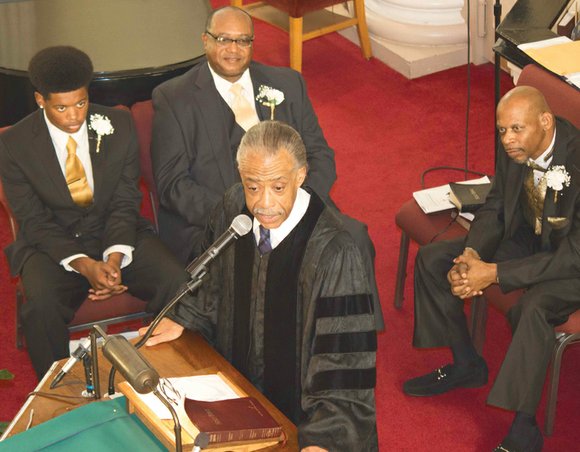 "It's inconceivable to me, that here we are in the midst of the beginning of a presidential election, and many of these issues are not even on the table," he added.
Rev. Sharpton stressed that people should determine to rise from their circumstances, regardless of where they stand.
"If I step out of this pulpit, walked over to where you're sitting and knocked you off your pew, then that's on me," he said.
"If we come back next Sunday and you're still laying on the ground, that's on you," he said, drawing laughs from the congregation.
He also encouraged parents to care for their children and to work hard to provide a strong future for them.
He emphasized that adults should educate young people on the heroics of their ancestors who suffered harsh and often deadly injustices to prepare a better way for them.
"If they don't know who they are, and they don't know the struggle that was engaged to open doors for them, if they don't know their value was of such that people would give up their life for them to have a better life, then maybe they think they're worthless because you have not told them how worthy they are," Rev. Sharpton said.
He said his father left the family when he was 9. His mother did not complete school and worked in cotton fields to support the family.
"My mother didn't raise me as to what I wasn't. She raised me as to what I was expected to be," Rev. Sharpton declared.
Sen. Rosalyn R. Dance of Petersburg, a member of Gillfield Baptist, was among those who appreciated his moving message.
"I would say it was a strong message for regular folks," said Sen. Dance, whose husband, Nathaniel A. Dance Jr., is a trustee at the church and whose brother-in-law, Adrian T. Dance Sr., sang "Jesus, I Love to Call Your Name" at the service.