Personality: Audrey Anderson Britt
Spotlight on sole surviving founder of the Melds Pinochle Club
2/5/2016, 12:24 p.m.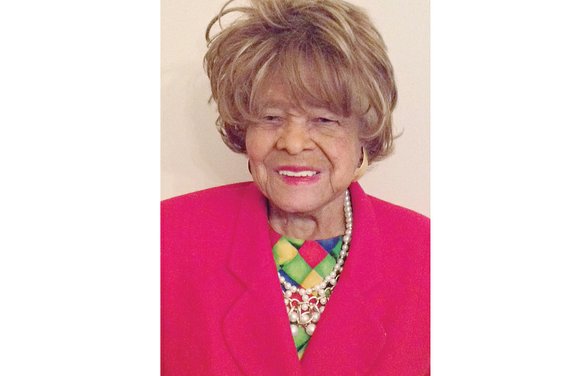 How do you unwind: I love to cook. I have a Black History Month celebration and invite some of my good friends.
What do you place top value on: I'm an organizer and I like to write poetry and travel.
For exercise, what do you do: Walk up and down the 13 steps in my house slowly and walking behind Oscar, cleaning up behind him and feeding him.
My memories of Battery Park: It's not like it used to be. Years ago, we were more like a family. If anybody died, we would put up funds and give that person some money. And we would share our losses with each other. Sometimes, the people don't speak to each other. They don't call their neighbors, but I do. I'm nosy.
To what do you attribute your longevity: Taking care of my family. I wonder sometimes why does the Lord keep me here? I read the Daily Word. I was taught to give and share and it must be true because I'm always giving and giving.
What will make Richmond a better city: If the people who handle the guns knew how to handle the guns. I think you can go down the street and buy a gun just like that if you had the money. Also, the city would be better if we would listen to some of the people who have lived a long time and if we could cooperate with the police. But some of the police should be re-trained. There are some who just shoot, shoot, shoot. And I think we need to look at our leaders.
Favorite late-night snack: Gin and tonic.
The one thing I can't stand is: Phony people.
My friends love me: Because I'm so much fun. And I'm a star. People just love me.
The person who influenced me the most: My grandmother, who was bossy, and my late husband, Harold Britt. He would tell me that I talked too much. We got married in 1947.
The book that influenced you the most: Now that I look at television, I don't read as much. I like to read cookbooks.
My dreams: After I retired, I wanted to have a travel agency because I used to run buses to New York and Virginia Beach. Then I wanted to have a little nursery school, but my daughter took me to Hollywood and I wanted to be a movie star.
My next goal: I've seen the movie "The Color Purple" three times and I want to see it again. And I'd like to try to go to Las Vegas. I've been there four times.