Personality: Tyra Hayes Beaman
Spotlight on Fulbright and Rangel fellowships recipient
7/22/2016, 12:54 p.m.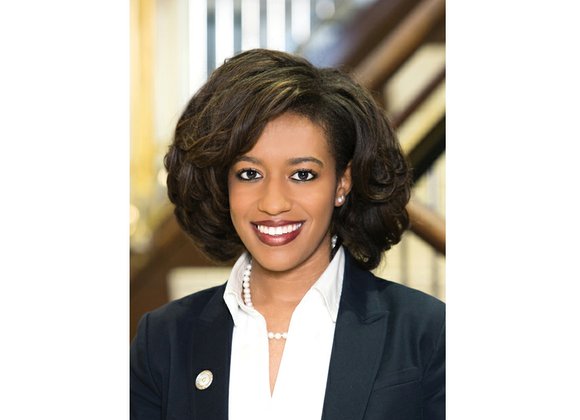 "So many black students I speak with about the Fulbright or Rangel fellowships say they would not have known about the programs had I not mentioned it," she says.
"We historically have not been invited into the circles that will share, promote and support young people seeking these prestigious scholarships. Thus, we need to ensure that we insert ourselves when necessary and then start our own. Awareness is key."
Meet this week's scholarly Personality, Tyra Zuri Hayes Beaman:
Date and place of birth: Nov. 3 in Henrico County
Current residence: Washington, D.C.
Family: Parents, Liz Hayes Mackey and Brad Mackey; and grandparents, Frances Hayes and Joseph Hayes.
Alma maters: Bachelor of arts in international studies from Spelman College.
When I learned I was selected for the Fulbright Fellowship: I learned I was a Fulbright Fellow while driving home from my Senior Soirée during my last week of undergrad.
First reaction: I screamed in disbelief! Senior week was filled with so many blessings, love and positivity, and it was overwhelming to receive such an amazing honor.
Number of finalists selected from Spelman: Spelman had four finalists and each finalist became a Fulbright Scholarship recipient.
When I learned I was selected for the Rangel Fellowship: It was spring break during my senior year, and I had returned to my compound after exploring and learning about the plight of Haitian slaves during the 16th, 17th and 18th centuries at a former slave plantation along the coast of Haiti.
First reaction: I could not stop crying! After competing as a Rhodes Scholar finalist, I was a bit broken down after not receiving the Rhodes. However, receiving the Rangel Fellowship on that particular day, in that particular space, felt almost divine. Haiti was the first country I had ever visited outside of the United States during my freshman year at Spelman and one of my first personal interactions with a U.S. ambassador. My first experience in Haiti is truly the reason why I want to become a U.S. foreign service officer. In the words of Pamela White, "Haiti is too rich to be poor."
Number of Rangel finalists selected from Spelman: This year, my Spelman sister Sadé' Tuckett and I both received the fellowship.
Reaction of family: Curiosity and excitement! My Mom and Dad understood what receiving both of the fellowships would mean. However, a lot of my family and close friends were not sure what this meant for my future, my safety and security and my long-term plans and dreams. I do not have anyone else in my family who has worked abroad or for the U.S. State Department, so they have a bit of fear and anxiety. However, I explained to them that going abroad for the U.S. government is one of the safest ways of traveling, as well as the best way to serve my country and the world.
What is involved in the Fulbright Fellowship Teaching Assistant program: As a Fulbright English Teaching Assistant, I will be supporting an instructor teaching grammar and culture and sharing my experiences with students who seek to soon travel to the United States from the Dominican Republic for school.