McEachin, Wade on Nov. ballot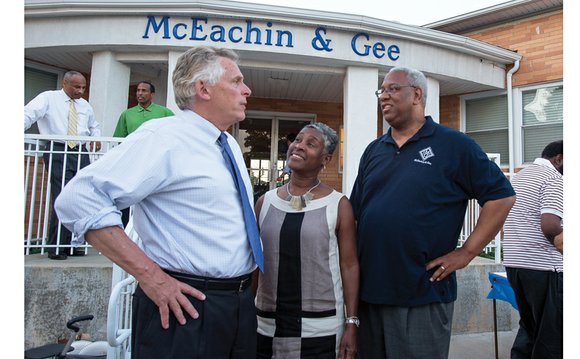 Richmond's next congressman will either be Democrat A. Donald McEachin or Republican Michael L. "Mike" Wade.
As expected, both men easily overcame rivals to win their respective party's primary election Tuesday. They gain the right to carry their party's banner into the November general election to represent the refashioned 4th Congressional District in Washington.
Overshadowed by the presidential race and the massacre in Orlando, the congressional primaries drew less than 5 percent of the 490,000 voters in the district that stretches from Richmond to Chesapeake.
The current 4th District congressman, seven-term Republican Rep. J. Randy Forbes of Chesapeake, did not run for re-election in the district.
Instead, Rep. Forbes jumped into the Republican primary in the 2nd Congressional District centered in Virginia Beach. He lost the contest to Scott Taylor, a former Navy Seal who now represents the beach city in the House of Delegates.
In the 4th District Democratic primary, Sen. McEachin, an attorney and state senator from Henrico County, won the primary by a 3-1 margin over Ella P. Ward, a retired educator and member of the Chesapeake City Council.
Sen. McEachin garnered 11,837 votes, or 75 percent, to 3,981 votes, or 25 percent, for Dr. Ward.
Sen. McEachin lost to Dr. Ward in her home base of Chesapeake and Suffolk. He won overwhelmingly in Richmond and the 13 other localities that make up the 4th Congressional District. About 5,400 people voted in Richmond, about one-third of all the people who cast ballots in the 4th District's Democratic primary, and Mr. McEachin won the city by a nearly 7-1 margin.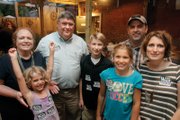 In a victory statement after the results rolled in, Sen. McEachin looked ahead to the general election after thanking voters, supporters and Dr. Ward.
"I am eager to point out the differences between my opponent and me," stated Sen. McEachin, who already is considered the front-runner for November's general election in the Democratic-leaning district.
"Mike Wade belongs to the party of Donald Trump," he stated, "and has publicly embraced him. On the other hand, I am proud to stand for progressive values. I want to bring people together, not divide them. I want us to work together to make this country prosperous and secure, not to isolate and denigrate different groups. 
"As we go into the fall," he continued, "I will keep talking with voters about the need to rebuild our crumbling infrastructure, bring jobs to the district, improve our public education system, ensure access to quality, affordable health care, keep our communities safe, expand access to broadband internet and do more to address climate change."
In the Republican primary won by Sheriff Wade, 7,773 voters cast ballots. He claimed 4,988 votes, or 64 percent, to 2,785 votes, or 36 percent, for conservative activist Jackee K. Gonzalez.
Ms. Gonzalez raised less than $14,000 in seeking to upset of her better-known rival.

Mr. Wade lost to Ms. Gonzalez in her home base of Chesterfield County and in Charles City County, but picked up wins in the 14 other localities, including Richmond where he won 60 percent of the 1,117 votes cast in the GOP primary.
Though currently trailing Sen. McEachin in fundraising, Sheriff Wade is unfazed by his underdog status.
"I think we can beat Donald McEachin," he said at his victory party.
The four-term sheriff, who has won plaudits for his progressive programs at the Henrico jail, said he plans to run as a candidate who is "dedicated to finding common sense conservative solutions for the families of the 4th Congressional District."
Meanwhile, Richmond's former congressman, Democratic Rep. Robert C. "Bobby" Scott, was unchallenged for the Democratic nomination as he seeks to win a 13th term representing the 3rd Congressional District, now centered in Newport News, Hampton and Norfolk.
In November, he will take on long shot Republican Marty Williams, a retired Chesapeake police sergeant who currently chairs the Chesapeake Planning Commission.