Personality: Fattah Muhammad
Spotlight on community activist and founder of RACE
4/13/2017, 8:08 p.m.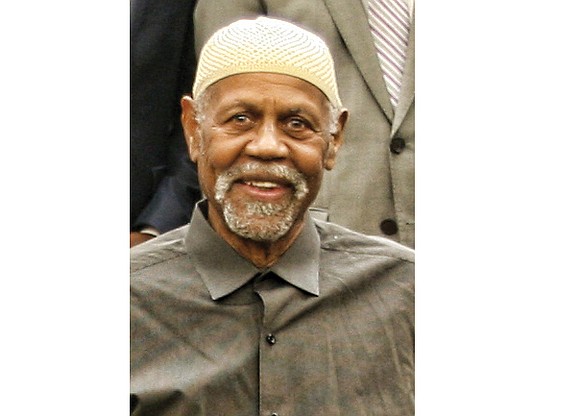 Fattah Muhammad began marching in the streets of several North Side and East End neighborhoods in 1980 to help end violence plaguing these communities and encourage cooperation with Richmond law enforcement.
With a bullhorn and a mission, he was a concerned citizen who says he could not stand by and do nothing while another life was lost to senseless violence.
"In Chimborazo, people were afraid to come around. Older people did not want to sit on their porches because they knew of people who'd been shot just sitting there," he says. "We started working with people in the community there and began building up."
In 1982, he worked with other activists and concerned residents to found RACE, Rescue Aid Community Everywhere. Focusing on several neighborhoods and public housing communities in the East End and North Side, the organization diligently worked to build better relations between residents and the police who served them.
On Monday night, Mr. Muhammad was recognized by Richmond City Council for his decades of "hard work and dedication" in trying to build community relationships and for his mentorship of young people in the Blackwell, Oak Grove, Hull Street and Jefferson Davis areas.
The 76-year-old found out he was to be honored only hours before the City Council meeting. And though he faced a chemotherapy treatment the following day as part of his battle against stomach cancer, he says he had to be there to accept the award.
"It really makes me feel good, you know?" he says. "We didn't get a lot of money or anything to support what we were doing. But we knocked on doors, marched in the streets."
Mr. Muhammad's community activism went beyond neighborhoods battling the impact of chronic violence. When City Councilwoman Reva M. Trammell first ran successfully in 1998 to represent the 8th District where Mr. Muhammad lives, he became her advocate and participated in her campaign.
"He introduced me to everyone," Ms. Trammell says. "He told them, 'Don't see her as a white woman because she is going to represent all of the people all of the time.' "
Ms. Trammell said his battle with cancer has weakened his body, but not his spirit and sense of purpose. "We started community policing by learning how to trust the police, bringing people together and having meetings because we are all people," she says, emotion rising in her voice. "We are family. And he doesn't want to stop. We would still be marching if he wasn't sick."
Though he admits the cancer has slowed him down some, he plans to attend the monthly 8th District meeting on Thursday, April 20.
He's a regular, Ms. Trammell says. "He's always been there."
The solution for ending violence in the community, Mr. Muhammad says, is to get involved before it ever happens.
"You see parents screaming and hollering and crying on the news when their child gets killed. And after that, you don't see or hear anything from them.
"If your child is standing out on the corner, go out there. Don't act like you don't know what they are doing." Meet this week's Personality and community activist, Fattah Muhammad: