Personality: Montae Lamar Taylor
Spotlight on interim president of Va. NAACP Youth/College Division
8/25/2017, 8:11 a.m.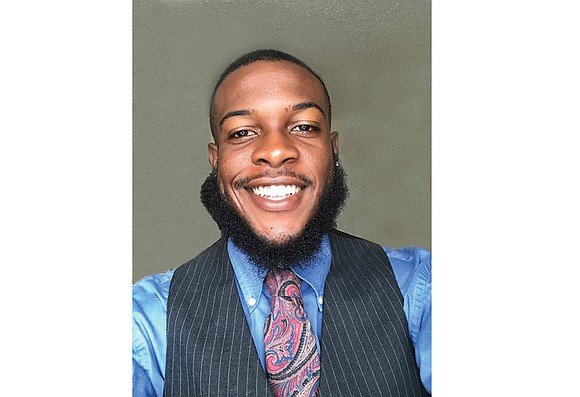 Montae Lamar Taylor, interim president of the Virginia NAACP Youth and College Division and a student at Old Dominion University, witnessed the clash between white nationalists and counterprotesters in Charlottesville on Aug. 12 that outraged people around the nation and the world.
The white nationalists "were marching in military formation and riding around in the backs of pickup trucks with automatic rifles and shotguns, handguns, shields and most had helmets on," he says, "an indication to me that they were not there for a peaceful protest."
He was interviewed by reporters from CNN and HBO's VICE News Tonight about what he saw and felt. The tumultuous, violent event, he says, has sharpened his focus for his work with the nation's oldest civil rights organization and other groups. NAACP chapters on college campuses represent a powerful intersection between the organization's rich and effective history and mobilizing young people for the social justice struggle today.
"We get wisdom from those who came before us," the 21-year-old senior says. "They offer us insight about what worked and did not work for them, helping us figure out how to build upon that."
Mr. Taylor credits his family with instilling in him a commitment to civil rights and social justice. His grandparents and parents have been involved with the NAACP for decades.
"My grandfather was a very outspoken person and made me the same way," he says. "He always taught us to stay educated on what is going on around us."
That, Mr. Taylor says, includes making his voice heard by contacting public officials on issues of importance. He took it to heart when he was an elementary school student. Working on a class assignment, he decided to contact Virginia's governor at the time, Tim Kaine, and President George W. Bush, inviting both to visit his school.
Neither took him up on the invitation, he says, but he met Mr. Kaine, now a U.S. senator, when Mr. Kaine visited ODU during the 2016 presidential campaign and met with student leaders.
"We talked and he apologized about not being able to visit" Mr. Taylor's elementary school years ago. During their talk, the subject of Pee Wee Football came up and Mr. Taylor's playing on a team while in elementary school. "Sen. Kaine said, 'I got you,' and the next day, he visited the little league field that I'd talked about in Highland Springs, where I used to play," Mr. Taylor says. "I think it's awesome the kids got to see a real person active in our government." The NAACP's success in working with public officials and government entities is one of its strongest assets, Mr. Taylor says, noting that it is important for today's youths to learn and understand that history and the contributions and progress the organization has made.
The energy of today's college-age social justice warriors is in building momentum to foster change, he says, particularly through partnerships with other organizations.
"It's going to take more than the NAACP to face the social justice issues of today," he says. "Activism is about anybody who supports equal rights for everybody. It's about all of us coming together on one accord, many different organizations coming together and focusing on the work that we have to do."