VUU's Jayda Luckie moves into the limelight
2/10/2017, 9:28 p.m.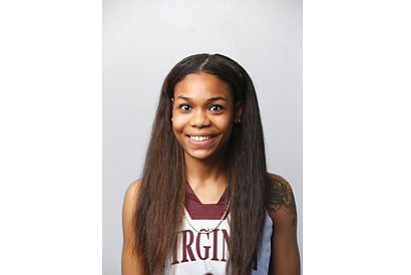 Jayda Luckie has evolved from a part-time to prime-time player at Virginia Union University.
You may not have noticed her a season ago. But you can't help but notice her this year.
The fleet 5-foot-9 junior guard is one of several talented newcomers to the spotlight who has helped pace VUU to an 18-1 record overall and 9-1 CIAA record.
"Jayda has been a blessing," said Panthers Coach AnnMarie Gilbert. "She didn't play a lot last season but we always knew there was a lot (of talent) in her.
"We're excited about what she will do for us the rest of this year, and looking ahead to next season."
Luckie, a military brat, grew up in Norfolk and starred at Maury High School, where she scored more than 1,000 points and led the Commodores to the Eastern District title.
After a season and a half at NCAA Division I University of North Carolina-Greensboro, she transferred to VUU last December.
In 15 games as a Panthers' backup, she averaged 8.3 minutes and 3.4 points per game.
VUU went on to post a 28-3 record, claim the CIAA and Atlantic Region titles, and advance to the NCAA quarterfinals.
"I really didn't mind not playing much last year," Luckie said. "When I got here, the team was already set."
VUU was especially "set" in the back court with NCAA Player of the Year Kiana Johnson averaging some 38 minutes per game.
Luckie's year in waiting has been rewarded.
When opportunity knocked, the criminal justice major didn't hesitate to turn on the power in her distinctive No. 0 maroon and steel jersey.
In about 25 minutes per game, she is averaging 13.8 points, while hitting 53 percent (91-187) from the floor, third best in the CIAA.
She has posted totals of 28 points against Livingstone College, 26 against Roberts Wesleyan College, 22 against Lincoln University, 20 against Mount Olive College, 18 against St. Augustine's University and 17 against Virginia State University.
"Jayda gets good shots," said Coach Gilbert. "She can put in on the floor and shoot the three (39 percent) if she needs to."
Her aggressive style with the ball often leads to being fouled. Second-most fouled on the team behind Brittany Jackson, Luckie is hitting 73 percent (63-86) of her free throws.
Defensively, she uses her long arms and quickness to spearhead a relentless VUU press that forces an average of 20 turnovers.
Transfer players with Division I backgrounds have made a huge difference for the Panthers. In addition to Luckie,  VUU's transfer list features:
• Jackson (Georgia Tech): She leads the team with 17.9 points per game; a CIAA Player of the Year candidate.
• Alexis Johnson (Towson State University): Averages 10.9 points and 7.5 rebounds per game.
• Rejoice Spivey (North Carolina A&T State University): She the assists leader with 93.
• Rachael Pecota (Northeastern University): Averages 5.7 points and 4.4 rebounds off the bench.
"There are some websites that have information about transfers," said Coach Gilbert. "We look at that and do our research.
"It's always something of a gamble to bring on a transfer. But in our case we've been lucky," she said.
That can also be spelled "Luckie."