Former VCU-NBA stars reunite to put on basketball camp
1/6/2017, 9:39 p.m.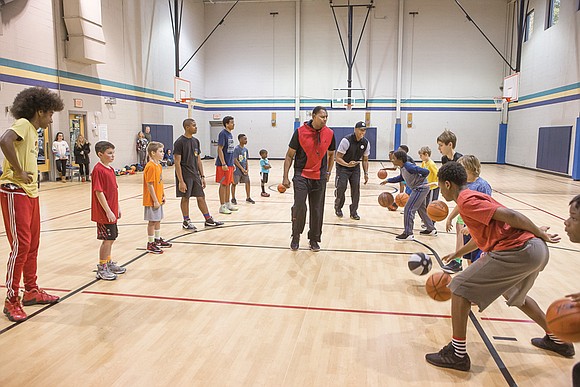 As young adults, Rolando Lamb and Calvin Duncan earned basketball fame at Virginia Commonwealth University largely for all the points they scored.
Nowadays, with both in their 50s, they're more about pointers than points.
After combining for 2,760 points in four memorable seasons for the Rams from 1980 through 1985, they've reunited, pushing basketball and the Bible, but not necessarily in that order.
"We're about developing character, maximizing God-given potential and having lifelong success," said Lamb.
"And we also love basketball," Duncan added.
Lamb and Duncan — "goes together like Starsky and Hutch," quipped Duncan —conducted a youth basketball camp last week at American Family Fitness-Swift Creek in Midlothian.
They have plans for more clinics, with a heavy emphasis on life skills, around town.  
Duncan, known as "Pastor D," serves as pastor of Faith & Family Church in Chesterfield County.
Lamb, with the title "America's character coach," has joined Duncan's church staff as a counselor and outreach minister.
Most recently, Lamb was living in Atlanta where he was hoops coach at Grace Bible College & Seminary. He also was serving as a motivational speaker, with such clients as the NBA's Atlanta Hawks and the University of Kentucky Wildcats, and running youth camps.
He is founder and CEO of A-Game Elite Training Session, personal development and mentoring for athletes. The focus: Athletics, academics and attitude.
Lamb points to his son, Jeremy, a member of NBA's Charlotte Hornets, as "a walking billboard of how our program works." He's as proud of Jeremy's off-court conduct as his brilliance with a ball in hand.
Lamb moved his family to Chesterfield this past fall.
"I came back to the area first to be closer to my mother (in Portsmouth) who is up in years," said Lamb.
"The other reason was to partner back up with my old friend."
Duncan said the two never lost contact.
"We're joined at the hip and at the heart," Duncan said.
The tandem: Under VCU Coach J.D. Barnett, the Rams were 90-31 with Lamb, who was from Portsmouth's Cradock High School, and Duncan, who was from Linden, N.J., forming the backcourt. They reached the NCAA playoffs three times, advancing to the second round on each occasion.
"VCU may have had better players than us," conceded Duncan. "But as a tandem, we're No. 1, hands down."
To emphasize his point, Duncan locked his fingers together.
Both were NBA draftees and are members of the VCU Athletic Hall of Fame. Duncan's No. 5 jersey was retired.
The shot: Lamb's most heroic moment was his buzzer-beating game winner (70-69) against Northeastern University at the 1984 NCAA Tournament at The Meadowlands in New Jersey.
It wasn't by design.
"Calvin was supposed to get the ball," Lamb recalled. "He's from New Jersey. We were in New Jersey, but ..."
With Duncan covered, Michael Brown flipped the ball to Lamb near the top of the key, where he swished a heavily contested jumper. Pandemonium ensued. It is arguably the most dramatic shot in VCU lore because of its "do or die" nature.
The Northeastern University team was coached by Jim Calhoun at the time. As fate would have it, years later, Coach Calhoun was recruiting Jeremy Lamb, then a coveted high school star in Norcross, Ga., to play at the University of Connecticut.
"Coach Calhoun called me and said, 'You owe me one.' We had a good laugh," Lamb said.
In 2011, Jeremy Lamb helped Connecticut win the NCAA title at Houston's Reliant Stadium. It was the same Final Four that VCU reached.
Had the Rams defeated Butler University in the semifinals, the team would have faced Coach Calhoun's Huskies — with Jeremy Lamb — in the finals.
"You can't make this stuff up," said Lamb, shaking his head at the coincidence of it all.
Connecticut went on to defeat Butler 53-41 for the title, with the younger Lamb playing a key role.
"I got another text from Coach Calhoun after that," said Lamb. "He said, 'Now we're even.' "