VCU ready for 7th consecutive bid to NCAAs
Fred Jeter | 3/4/2017, 10:19 a.m.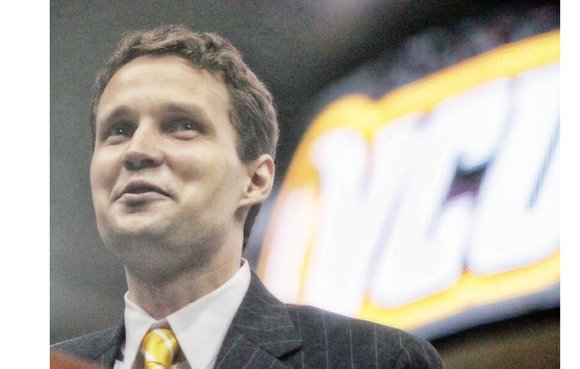 Barring an unlikely late season collapse, the Virginia Commonwealth University Rams are primed for a seventh straight trip to the NCAA playoffs.
That clearly places the Rams with college basketball's royalty.
Coach Will Wade's squad began this week with a 23-6 record and, more importantly, an RPI power rating around 30 out of 347 Division I schools.
Only the University of Kansas, which has gone to the NCAAs 27 straight times, Duke University, 21 times, Michigan State University, 19 times, Gonzaga University and the University of Wisconsin, 18 each, have longer unbroken strings of NCAA invitations.  
In the midst of another outstanding season, the Rams' nine-game winning streak ended last Saturday with a 69-59 loss at the University of Rhode Island.
The Rams will close their regular season and celebrate Senior Day on Saturday, March 4, against visiting George Mason University at 2 p.m. in Richmond.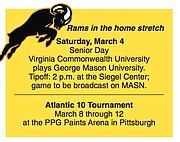 The current senior crop of Mo Alie-Cox, Jordan Burgess, JeQuan Lewis, Doug Brooks, Ahmed Hamdy-Mohamed and Torey Burston has compiled 100 victories over four years. Their talents are well rewarded by a loyal fan following. Against George Mason, they will compete before a 99th consecutive sold out crowd at the Siegel Center.
Lewis is an Atlantic 10 Player of the Year candidate and certainly an All-A-10 pick.
The Atlantic 10 Tournament champ receives an automatic bid to the 68-team NCAAs. Regardless of how VCU does during the A-10 Tournament in Pittsburgh, VCU would seem a likely NCAA qualifier.
The Rams have been to the NCAAs a total of 15 times, five times under former coaches J.D. Barnett and Shaka Smart, twice under Anthony Grant, once each under Sonny Smith and Jeff Capel and last year under Coach Wade.
With the success comes some anxiety among the Rams' legion of fans.
The always grinding rumor mill has Coach Wade as a possible candidate for the soon-to-be vacant position at two-time, NCAA champion North Carolina State University in Raleigh. The Charlotte Observer published a story recently proclaiming Coach Wade as an ideal successor to Mark Gottfried. The ACC school has announced Coach Gottfried will not return.
The Ram Nation is used to this.
Coach Smart was hotly pursued after the Rams' run to the NCAA Final Four in 2011. And coincidentally, N.C. State made the first serious offer to lure Coach Smart.
Following the 2011 season, VCU made an effort to sweeten the pot to keep Coach Smart with plans for a $25 million Basketball Development Center.
Coach Smart rejected N.C. State's offer and those in other seasons from Marquette University, the University of Illinois and UCLA before leaving for the University of Texas following the 2015 season.
Prior to Coach Smart's exit, the Rams lost two coaches to Power Five Conferences – Coach Capel to the University of Oklahoma and Coach Grant to the University of Alabama.
Coach Wade (48-17 at VCU) might also be a candidate for the job at another ACC school, Clemson University, where seventh-year Coach Brad Brownell is in hot water.
Coach Wade is a 2005 graduate of Clemson, where he served as a graduate assistant coach from 2005-06 and director of basketball operations from 2006-07.
A year ago, he was considered for a job at Vanderbilt University, but declined to pursue that post and signed a more lucrative deal at VCU. While VCU has blossomed into a top tier basketball program, there are some concerns about its ceiling of success.
Since 1957, only Loyola University-Chicago (1963) and Marquette (1977) have won NCAA titles with schools that didn't at least play FBS or FCS football. 
With that thought, VCU has emerged as the "Gonzaga of the East." The Zags, without the benefit of football, are currently ranked No. 1 in the nation.