Statue issue halted – for now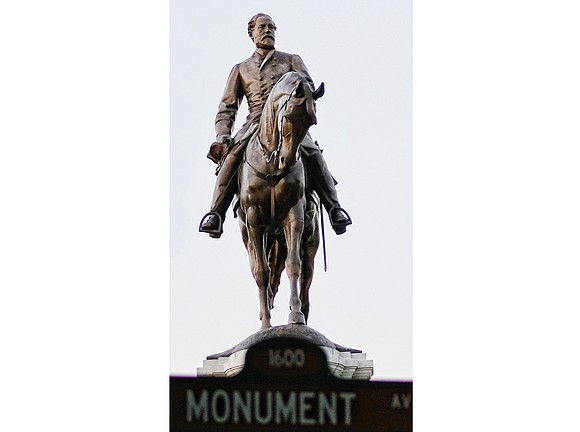 By Jeremy M. Lazarus
Councilman Michael J. Jones is no longer racing to put a resolution before Richmond's governing body urging the elimination of Confederate statues from Monument Avenue.
Just days before a council committee was to consider his resolution this week, the 9th District councilman asked for the issue to be continued.

He was not immediately available for comment on his decision to slow consideration of the resolution, which if passed, would call on the General Assembly to grant Richmond authority to remove the five Confederate statues that have been features of Monument Avenue for more than a century.
"He said he needed to tighten up the wording," said Councilwoman Ellen F. Robertson, 6th District, chair of the Land Use, Housing and Transportation Committee to which the resolution was assigned.
Mr. Jones' decision was not completely unexpected given a recent opinion from City Attorney Allen L. Jackson that the council is barred under the City Charter from removing the statues.
Ms. Robertson said Mr. Jones asked for the continuance last Friday, and she notified the committee members, Kim Gray, 2nd District, and Kristen N. Larson, 4th District, immediately as well as the committee's staff.
However, a public announcement of the proposed continuance did not go out to the public until 2½ hours before the committee meeting at 1 p.m. Tuesday.
Ms. Gray was miffed at the late notice. She said that up to 90 people from several groups were preparing to attend the committee session to voice their views on the resolution.
"My phone was ringing off the hook" after the notice that the controversial resolution would not be heard, she said.
Ms. Gray was even more concerned after Ms. Robertson told her that the continuance did not become official until the committee voted to do so.
Ms. Gray noted that the statement that was sent out to the public asserted that Mr. Jones' resolution would be continued before the committee had a chance to vote.
While Ms. Gray still wanted the matter to be heard, Ms. Robertson and Ms. Larson both voted to continue it until the November committee meeting. At Ms. Larson's suggestion, the decision included a request for the matter to be heard at a future meeting of the Organizational Development Committee, to which all nine council members belong.

Separately, the committee also deferred hearing a proposal to allow Chesterfield County to use 2 acres of Larus Park on South Side to develop a pumping station for extra water to be purchased from the city.
Ms. Gray said the administration requested the continuance as it continues to seek potential alternative sites or to find ways to appease opposition to the proposal.