Confederate statues must come down, commission told
4/6/2018, 8:04 a.m.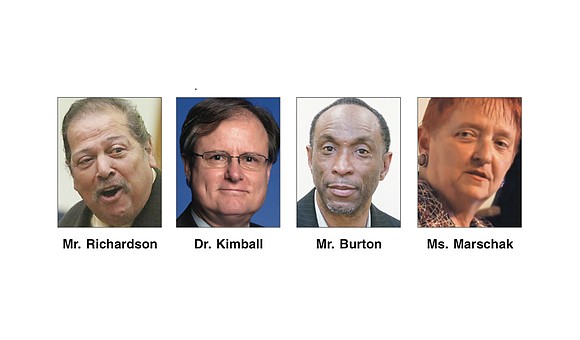 Two City Council members, Kim Gray of the 2nd District and Andreas D. Addison of the 1st District, also serve on the commission.
Speakers at last week's meeting raised concerns about the inherently political nature of the commission and whether the public engagement process is all for naught.
"It's like a political merry-go-round," said Lynetta Thompson, a former chair of the Richmond Branch NAACP, pointing to the City Council and General Assembly. "This is what aggravates the process because it's like the intent is not sincere."
Commission co-chair Greg Kimball acknowledged that political considerations could impact the fate of the statues even after the commission completes its work and makes its recommendation, which is expected sometime in May.
But he urged people to not give up on "the political process in terms of what is possible down the road."
Arthur Burton, founder and director of the Kinfolk Community Empowerment Center, told the commission that his ancestors were slaves at the "Longfield and Hard Time plantations owned by the Burton family in Eastern Henrico." He said he still maintains the land his family received through a land grant in 1896.
"I want you guys to understand that there are African-American people who are both deeply connected to the Civil War and its heritage," he said. "As much as those statues 100 years ago defined what this city is, the reality is those statues no longer represent this city, and we need to start the conversation about what statues are going to represent this city for the next 100 years or 200 years."
The Confederate statues "essentially are a 'whites only' sign that's real big," said Elizabeth "Beth" Marschak, a board member of Diversity Richmond, who recalled being scolded as a youth for trying to drink from a "coloreds only" water fountain in Downtown.
"I don't think we would argue that whites only signs should've stayed up because they're history. They needed to come down and maybe go to a museum so people would know what had happened," she said.
"But as long as they would have been posted in their original sites, people would still give them credence. And that is what is wrong with the statues on Monument Avenue."
She asked the commission members not to base their recommendation on what is financially or legally possible.
"Legal things can be changed, and if (the statues) are really the valuable things people think they are, somebody will pay to put them somewhere else."
In addition to Dr. Kimball, director of education and outreach at the Library of Virginia, other commission members attending the meeting were co-chair Christy Coleman, CEO of the American Civil War Museum; University of Richmond professor Lauranett Lee; Coleen Butler Rodriguez, a Monument Avenue resident and home renovator; and advisory member Sarah S. Driggs of the Richmond Public Art Commission.