Personality: Jalia L. Hardy
Spotlight on state winner of VML's 'If I Were Mayor' essay contest
4/6/2018, 1:45 p.m.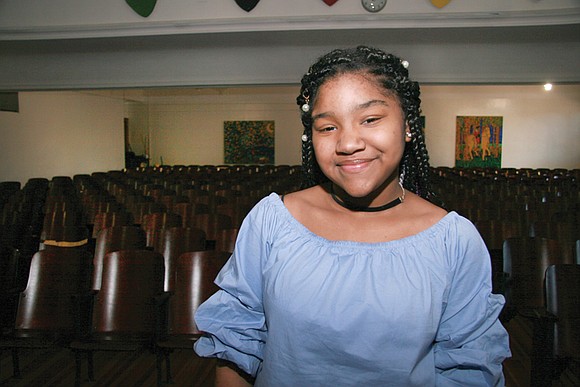 Her research included "what is an economy and what it does," she says, along with "housing and different neighborhoods in Richmond" and needs of homeless people. Two days after learning she won the essay contest, she happened to see Richmond Mayor Levar M. Stoney.
"I saw him at Regency Mall. I was on the second floor with my sister and my friend and he was on the first floor," she recalls. "I looked over the balcony and said hello. And he asked how we were." While she didn't have the opportunity to tell him how she would run the city, she says it's important as a leader "to listen to other people's ideas because I don't want everyone to think that I am taking over. I ask other people questions because I know that I can be very aggressive sometimes. I like to ask questions so everyone will agree on one thing."
Her message to young leaders like herself?
"Stay focused and know your goals. Don't get distracted by little things that happen. If you are having a bad day, just try to keep your head up and be kind."
Meet Virginia's young leader in training and this week's Personality, Jalia Lucille Hardy:
Latest honor: 2018 statewide winner of the Virginia Municipal League's "If I Were Mayor" essay contest.
Grade level and school: Seventh grade at Binford Middle School.
Extracurricular activities: Minds in Motion Ambassadors, Binford Dance Company, Future Young Leaders program of Alpha Kappa Alpha Sorority's Upsilon Omega Chapter, Binford Choir and choreographer for the Overby-Sheppard Honey Beez.
Family: Mother, Lisa Hardy; siblings, Antione Lynch Jr. and Tierra Rice (on my Mom's side) and Janae Hardy, Jacori Hardy and Jachelle Hardy (on my Dad's side).
Birthday: March 1.
Current residence: Richmond.
Reaction to winning the regional title: I was so happy and very excited that I won throughout the whole region. When Mr. Walker called me into his classroom, I knew he was going to tell me something important because it was at the end of the day. But I did not know it was going to be as important and exciting as this. I was so excited and shocked because out of all the kids across the whole state who entered, I won!

Family's reaction: They were so proud of me. My Mom said, "What-tt-t … that's my girl!" And they all posted it on Facebook and called everyone.

What this honor means to me: Getting this award shows me that I can achieve whatever I put my mind to. I am very proud of myself.
Why other students should participate: Other students should enter the contest because, even if you don't win, it is a good opportunity. And since the writing prompt is not very specific, you can go crazy and write how you, the city and the world should be.
How I plan to use the award: I am going to put some of the money in my savings account, but I am also going to get things that I want like food, candy, clothes, shoes, etc.