VSU on the lookout for its next great running back
Fred Jeter | 4/29/2018, 2:32 p.m.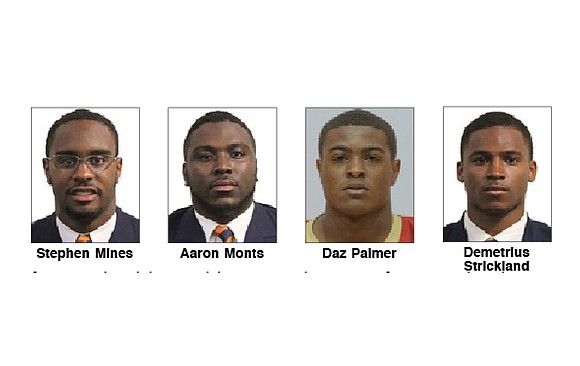 Auditions for the marquee role of the next Trenton Cannon are now underway at Virginia State University.
Realistically, the All-American tailback will be nearly impossible to replace. Finding a replacement might be compared to trying to find a fill-in for the Statue of Liberty.
Still, a handful of quality applicants were in action for VSU's Orange & Blue Spring Game on April 14 at Rogers Stadium.
When Coach Reggie Barlow's Trojans open Sept. 1 at Norfolk State University, it's anyone's guess now who might be getting the majority of handoffs from returning quarterback Cordelral Cook.
First some history: In leading VSU to a 10-1 record, the CIAA title and a NCAA Division II playoff berth last season, Cannon rambled for a school record 1,638 yards while scoring 22 touchdowns via run, reception and kick return.
"Trenton was the real deal, and we've had three different NFL teams come by to see him," said third-year Coach Reggie Barlow.
"You don't really replace a Trenton," he said. "You bring in as many guys as you can and you coach them up."
Alphabetically, here is a sampling of running backs-in-waiting in Ettrick:
Stephen Mines (5-foot-10, 198 pounds, senior): Hails from one of the state's premier high school programs, L.C. Bird High School in Chesterfield County. As a Skyhawks senior, he was named All-State 5A, leading the Skyhawks to the state crown. He has played mostly on the special teams at VSU.
Aaron Monts (5-foot-11, 225 pounds, sophomore): In backup duty last season, he rushed for 54 yards and one touchdown on 10 carries. He hails from Richmond Christian Academy in Chesterfield County, where he rushed for 1,600 yards as a senior.
Daz Palmer (5-foot-10, 180 pounds, sophomore): After transferring to VSU from Virginia Military Institute, he was named VSU Newcomer of Spring. He ran for 491 yards and three touchdowns as a VMI freshman in 2016. At Lake Taylor High School in Norfolk in 2015, he ran for 2,179 yards and 35 touchdowns.
Demetrius Strickland (5-foot-8, 187 pounds, sophomore): He is the latest in a long line of standout ball carriers from powerhouse Hampton High. Strickland had a brilliant senior year at Hampton High and was named co-MVP at the state All-Star game.
As long as Cook remains the Trojans' quarterback, the team will have at least one strong runner. The Atlanta native who transferred to VSU from Alabama State University ran for 729 yards and 18 touchdowns last year.
A dual threat, Cook passed for 1,590 yards and another 11 touchdowns in the fall 2017 season.
Behind Cook are Jarvis Brooks, a transfer from Texas Lutheran, and Merlys Manuel, an incoming freshman from Richmond's Huguenot High School.
VSU is coming off the best season in its program's history. Trojans fans want to know if it is realistic to maintain such a high level of dominance.
"Can we keep it going? I'm from Montgomery, Alabama — just down the road from the school (University of Alabama) that sets the standard for excellence," Coach Barlow said. "I'll admit I'm a closet Alabama fan.
"Our goal is to put out a great product, every day, every month, every year. We keep our standards high."
With Hampton University leaving MEAC this year, there is a vacancy in that FCS Conference. Coach Barlow was asked if VSU might want to apply for MEAC membership.
"It makes sense," he said of what would be a move up the NCAA ladder. But, he added, "I'm not the one making the decision which way we go."
VSU has evolved as a CIAA heavyweight. The Trojans are 44-11 over the past four seasons, including 19-3 under Coach Barlow's past two campaigns.