Double trouble awaits Lady Panthers' opponents
Fred Jeter | 1/5/2018, 4:16 p.m.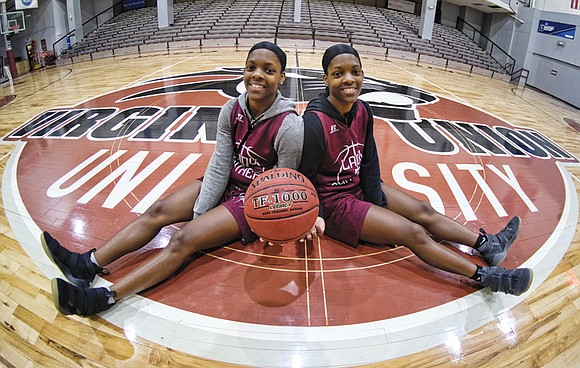 Just one McNeill freshman would be a nice addition to the Virginia Union University women's basketball program.
Having two makes it twice as nice.
In a play off the VUU sports mascot, the Panthers, fraternal twin sisters Shameka and Shareka McNeill have come to be known as the "copy cats." Both have pounced as quickly as cats into the mainstream of Coach AnnMarie Gilbert's CIAA and NCAA Division II powerhouse program.
"I've been coaching 23 years and have had a lot of good players," Coach Gilbert said. "But when it comes to freshmen, I've never had two any better than our twins."
Answering to "Meka," Shameka is a left-hander and wears No. 3. Right-handed Shareka, known as "Reka," is No. 4.
Shameka is 5-foot-5; Shareka, 5-foot-6. Both weigh about 123 pounds. It takes a scrutinizing eye to tell Meka from Reka when they are off the court and out of uniform.
"Here's how you can tell," Coach Gilbert said. "Shameka has the tiniest little mole above her upper lip. Shareka has streaks (highlights) in her hair."
Their nearly identical appearance — at least to outsiders — has led to some comical anecdotes.
Trying to hold back a laugh, Shareka relates this mistaken identity story: "In high school, we were dating twins from another school. Well, we got mixed up and I kissed the wrong guy without even knowing it."
The talented and spirited daughters of Michelle and George McNeill were born three minutes apart on Aug. 15, 1999, in Charlotte, N.C. They've been inseparable from crib to college dorm.
"They do everything together," Coach Gilbert said.
That includes starting for VUU's defending NCAA Division II runners-up.
As freshmen, they've taken turns this season being named CIAA Rookie of the Week for the 11-1 Lady Panthers.
Starting every game, Shareka, primarily a shooting guard, averages 13.2 points with 55 3-point connections.
In more of a play-making role, Shameka, who became a starter six games ago, averages eight points with 34 3-point hits.
Both are active all over the floor — passing, rebounding, shooting and applying heated pressure defense. Shareka has 25 steals and Shameka, 21.
"Both girls can play three different positions – the 1, 2 and 3," Coach Gilbert said of point guard, shooting guard and small forward.
"They're the total package. On a given night, each is capable of scoring 20 points. They're also excellent students."
Each twin scored about 1,200 points during their careers at Harding University High in Charlotte, N.C.
Coach Gilbert first learned of their talents through the CIAA's outreach program during conference tournaments in Charlotte. During the annual weeklong event, each CIAA affiliate is assigned to attend a high school with the goal of promoting education in general and HBCUs in particular.
It just so happened that VUU was assigned to Harding University High two years in a row.
"Once we got film of the twins, we invited them to VUU for a campus tour," Coach Gilbert recalled. "Right away, they showed so much energy and enthusiasm."
Recruited separately, the twins passed up offers from Norfolk State University, Florida A&M University and their hometown school, Johnson C. Smith University, to enroll at VUU as a package deal.
"A few schools wanted one of us, but not the other," Shameka said. "That wasn't going to happen. We came to Virginia Union together and, eventually, we hope to play on the same pro team together."
For the better part of the next four seasons, VUU's  "copy cats" figure to cause plenty of trouble for the Lady Panthers' opponents.
Better make that double trouble.