VUU men come alive to take CIAA title
3/10/2018, 8:56 a.m.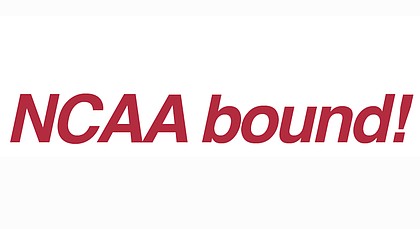 VUU and VSU men's, women's teams going to NCAA Division II regionals
Virginia Union University arrived at the CIAA Tournament in Charlotte, N.C., with a whisper, and left with a sonic boom.
Winning four times in four days in jaw-dropping fashion, the Panthers captured their first CIAA men's tournament hoops title since 2006.
Furthermore, it was also VUU's first trip to the main event finals since 2007.
Coach Jay Butler's squad saved its best basketball for Charlotte, to say the least. Then, dramatically, it unveiled its extra special, almost magical best for the tournament final on Saturday, March 3, leaving a Spectrum Center crowd and Aspire TV audience in awe.
The 82-52 victory over hometown favorite Johnson C. Smith University was among the most one-sided victories in championship game annals.
The host Golden Bulls were left without even a "what if?"
"I'll tell you the truth," Aspire announcer Stan Lewter said with a tone of disbelief, "I never saw this coming."
Few did.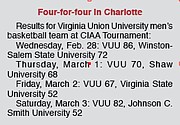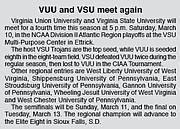 VUU slipped into Charlotte with a so-so 14-14 record, a No. 3 seed in the CIAA Northern Division and a humbling track record — 1-10 since 2008-2017 — in the annual HBCU event.
With the title, VUU earns the CIAA's automatic NCAA Division II Tournament bid to play in the Atlantic Region starting Saturday, March 10.
It was like the Panthers were a time bomb of talent all season, just waiting to go off — and it did, just in the nick of time.
Virginia State University, 24-4 for the season, also advances to the NCAA Division II Atlantic Regional as an at-large selection. The Trojans defeated St. Augustine's University 49-45 before bowing to VUU in the CIAA semifinals.
VSU had been ranked No. 1 in the Atlantic Region prior to the CIAA Tournament.
On the brightest stage, VUU took its game to another level. 
The Spectrum Center is the home of the Charlotte Hornets, and the Panthers seemed to take turns impersonating the NBA pros.
There was room aplenty in the spotlight.
Against Johnson C. Smith, 6-foot-11 senior Andre Walker, aka "Andre the Giant," lived up to his nickname, scoring 19 points, snagging 11 rebounds and blocking four shots.
In the Panthers' semifinal upset of Northern Division top seed Virginia State University on Friday, March 2, Kory Cooley led with 29 points.  
Against Winston-Salem State and Shaw universities in the CIAA Tournament's first two rounds, Todd Hughes had 26 and 23 points, respectively.
Junior point guard Jemal Smith choreographed the offense, attacking when needed, being patient when that was apropos and basically doing all the right things.
Senior Jimmy Paige was steady, as usual, sweeping the boards and doing all the little things necessary to win and advance.
Two other seniors, Micah Thomas and Devin Moore, came off the bench to what they do best — in Thomas' case, bury 3-pointers; with Moore, powerful inside defense.
Providing a spark throughout was 6-foot-7 sophomore William Jenkins, a high-energy native of Baltimore. Jenkins collected 16 points and 11 rebounds in the final and 40 points and 23 boards overall. He truly looks like a star of the future on Lombardy Street.
And all this, mind you, from a cast that was completely shut out on the 10-man All-CIAA team.
No respect, huh? The best form of revenge is always success.
For the finals, the VUU coaching staff wore fresh maroon carnations on their lapels, an old tradition started by former Coach Dave Robbins. VUU's colors are maroon and steel.
The sweet smell of victory was in the air in Charlotte, and it was long overdue for tired-of-waiting Panthers everywhere.