Agelasto out, but not soon enough for critics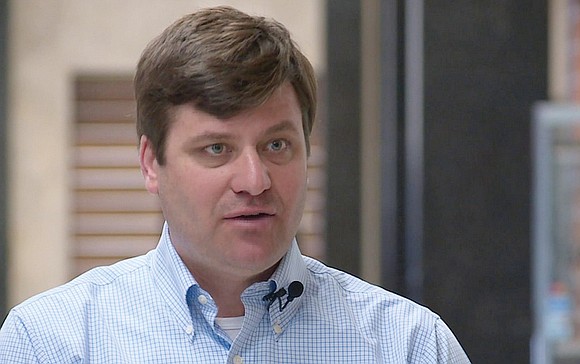 Mr. El-Amin's filing came on the heels of a separate case brought by former 5th District Councilman Henry W. "Chuck" Richardson in January and updated in February asking the court to issue a declaratory judgment that Mr. Agelasto has vacated the seat. A judge has yet to be assigned, Mr. Richardson said, while Mr. Agelasto has asked the court to throw the case out.
Mr. Richardson, who also said he has no intention of dropping his lawsuit, called Mr. Agelasto's refusal to leave office immediately "unacceptable."
"It is unconscionable to have a person who has acknowledged he has violated the law decide when he is to accept his punishment," Mr. Richardson said. "That is the very essence of privilege."
Mr. Richardson called it improper for the city to have paid — and continue to pay — Mr. Agelasto's $25,000 annual City Council salary while knowing he is not a legitimate council member. Mr. Richardson also raised concerns about the legality of the votes Mr. Agelasto has cast and will cast since moving out of the district last July.
In his email to constituents, Mr. Agelasto described Mr. Richardson's lawsuit "as grandstanding," in complaining that Mr. Richardson had declined to compromise.
Both Mr. Richardson and Mr. El-Amin dismissed Mr. Agelasto's criticisms as the sour grapes of a scofflaw.
The issue of Mr. Agelasto's residence burst into public view in November, just before it was made public by his campaign consultant, Michael G. Brown, a 5th District resident who served as head of the state Department of Elections in the early 1990s.
Mr. Agelasto acknowledged then that he and his family had moved during the summer into a larger home in the city's 1st District and he said he would not seek re-election after completing his term in office in December 2020.
Mr. Brown also has campaigned to get Mr. Agelasto removed from office, but was halted initially when city Voter Registrar Kirk Showalter determined she had been stripped by the state legislature of authority to consider the voting eligibility of Mr. Agelasto so long as he lived within the city's boundaries.
After several City Council members sought to bring up the issue, the council ducked the issued based on advice from City Attorney Allen L. Jackson that the residency of members was not a matter for the governing body to consider.
"I appreciate Mr. Herring's efforts. He has gotten Mr. Agelasto to acknowledge he does not live in the district," Mr. Brown said on Wednesday. However, Mr. Brown said he and others concerned about Mr. Agelasto's residency would continue efforts to force him to step down or be removed before November.
"We cannot allow him to stay for another seven months now that he has admitted that he does not live in the district," said Mr. Brown, who has acknowledged that Mr. Agelasto has broad support in the district and that only a handful of people have openly considered his lack of residency in the district a problem.

As Mr. Agelasto noted, other council members have maintained sham district residences while living elsewhere, although none have faced lawsuits to remove them from office.