Councilman Agelasto asks for taxpayer money to pay his legal bills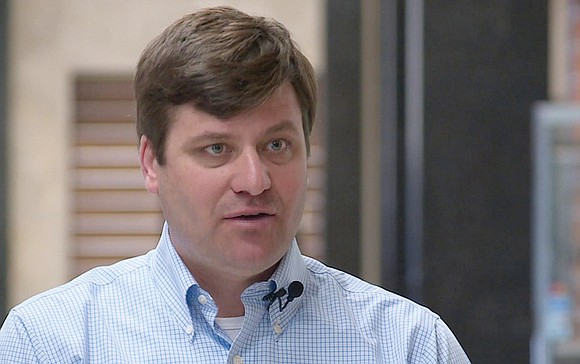 Parker C. Agelasto has run up a hefty legal tab fending off lawsuits seek- ing to immediately remove him from his 5th District City Council seat now that he and his family have moved out of the district.
Mr. Agelasto, who is set to step down on Nov. 30, has appealed to his eight City Council colleagues for financial help with the legal bills.
But his appeal has hit a major roadblock — an adverse legal opinion from City Attorney Allen L. Jackson that appears to bar the council from providing him any relief using taxpayer money.
The opinion was issued in response to questions raised during a June 24 closed-door meeting City Council held on the matter.
The Free Press obtained a copy of Mr. Jackson's June 28 opinion that was issued as the council prepared to meet again behind closed doors Monday night following other business. That meeting was put off, possibly because at least one council member, Reva M. Trammell, had another commitment.
Mr. Agelasto stated when he announced his plans to resign that the cost of legal representation was a key factor, but he has never provided details.
The Free Press has been told that Mr. Agelasto already has paid about $6,000 to his attorney, former Virginia At- torney General Anthony F. "Tony" Troy, with another $8,000 due.
In the opinion, Mr. Jackson wrote that council has no obliga- tion to pay the legal bills and lacks the authority to do so.
Mr. Jackson wrote that the two state laws that address payment of legal bills only permit local governing bodies to do so when the litigation arises "from the performance of some official duty."
In Mr. Jackson's opinion, Mr. Agelasto's situation does not meet that test.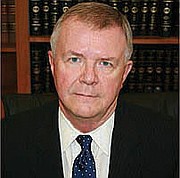 Mr. Jackson noted that the separate lawsuits filed by two former council members, Sa'ad El-Amin and Henry W. "Chuck" Richardson, are based on an allegation that Mr. Agelasto is no longer a resident of the 5th District.
Without taking a side, Mr. Jackson noted, "One's choice of a residence may affect one's eligibility to seek or hold office or be employed in a particular job, but it remains fundamentally a personal, private decision" and, thus, falls outside the scope of Mr. Agelasto's official duties as an elected council member.
Mr. Agelasto has acknowledged that he and his family moved last summer from their 5th District home into a house he and his wife purchased on West Franklin Street in the city's 1st District.
A hearing is set for Friday, July 12, in Richmond Circuit Court on Mr. Richardson's request for a declaratory judgment that Mr. Agelasto has vacated his seat based on a state law that requires state and local elected officials to live in the districts they represent. Mr. El-Amin's suit is on hold.
Mr. Jackson also rebuffed Mr. Agelasto's and Mr. Troy's argument that the council's May 6 vote to seek a special election to replace Mr. Agelasto brought the issue into the official duty fold.
Mr. Troy has claimed that the council's vote showed the governing body had approved a deal between Mr. Agelasto and former Commonwealth's Attorney Michael N. Herring, who left office Monday. That deal required Mr. Agelasto to resign to avoid having Mr. Herring go to court to remove him from office.
Mr. Jackson noted there is no reference to such a deal in Mr. Agelasto's April 23 letter of resignation or in the motion City Council approved asking the Richmond Circuit Court to set the election for the 5th District seat on Tuesday, Nov. 5, as part of the general election.
As a result, Mr. Jackson stated, "No formal agreement such as described (by Mr. Troy) was ever approved by the council. I am aware of no documentary evidence that suggests" the council's May 6 vote involved anything more than compliance with a state law that details the process localities are to follow after a member resigns.
Mr. Jackson also advised the council that Mr. Agelasto and/ or his attorney should not be allowed to participate in any future closed-door meetings council holds to discuss payment of his legal bills.
Mr. Jackson stated such participation is barred under the state's Conflict of Interest Act, and that the exceptions Mr. Agelasto cited do not apply. He said Mr. Agelasto cannot be included in the discussion because the only question to be considered is "whether Mr. Agelasto, and only Mr. Agelasto, should be provided financial support in (the legal) cases brought solely against him."