Tierra Terry selected as new coach of VUU Lady Panthers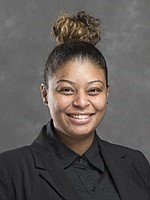 Tierra Terry has been selected as Virginia Union University's new women's basketball coach.
The official announcement is expected Thursday morning at the university.
She succeeds the highly successful Coach AnnMarie Gilbert, who resigned in late April to become coach at the University of Detroit Mercy.
Coach Terry comes to the Lady Panthers at Division II VUU with six years of coaching experience on the NCAA Division I level, while also having a background in HBCUs.
She has spent the past three seasons as an assistant coach at the College of William & Mary of the Colonial Athletic As- sociation. The Tribe went 21-8 this past season.
Before that, Coach Terry was an assistant for three seasons at Western Carolina University of the Southern Conference, where she served as recruiting coordinator.
She began her coaching career at her alma mater, Winston-Salem State University, which, like VUU, is a member of the CIAA.
Coach Terry played four basketball seasons at Winston-Salem State while earning a degree in psychology with a minor in sociology in 2008. She earned a master's in psychology in 2011 at the University of West Florida.
Prior to launching her coaching career, she worked one year as a counselor at Medifast Weight Control Centers in Orlando.
She married Patrick Terry in August 2019, and the couple lives in Richmond.
Nicknamed "T," she is the daughter of Janese and Delaney Rudd and starred at Robert Glenn High School in North Carolina before enrolling at Winston-Salem State. She learned the game from her dad, who was an All-ACC guard at Wake Forest University and later played in the NBA with the Utah Jazz and the Portland Trail Blazers. She attended her dad's annual basketball camps in the High Point-Triad area near Greensboro, N.C., beginning at age 6 and helped coach at the camps as a teenager.
Coach Terry has a tough act to follow at VUU.
Coach Gilbert was a spectacular 135-18 in three seasons, with the Lady Panthers making it to the NCAA Division II finals in 2017.
Among the returning players Coach Terry will welcome are All-CIAA guards Shareka and Shameka McNeill. The twins are rising seniors.
VUU went 23-4 this past season, qualifying for the NCAAs a fifth straight year. However, because of the coronavirus pandemic, the NCAA Tournament was canceled.
VUU has a rich tradition in women's hoops. The Lady Panthers won the NCAA women's title in 1983 and lost in the NCAA finals in 1984 under Coach Lou Hearn.