Remembering VUU's glory days as NCAA champions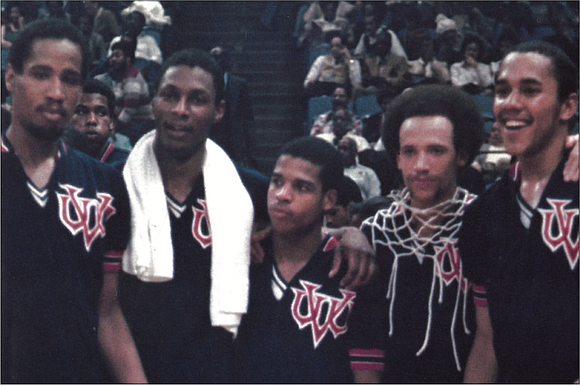 There will be no national college basketball championships to celebrate this season.
As unfortunate as that is, the pause in sports because of the coronavirus pandemic offers an opportunity to reflect on past glory.
Close to home, Virginia Union University's three NCAA Division II basketball championship titles under former Coach Dave Robbins are deserving of review.
1980
In Coach Robbins' second season after succeeding Coach Robert Moore, the Panthers ran the table. Stars included guard Keith Valentine, who Robbins had coached at Richmond's Thomas Jefferson High School.
Valentine transferred to VUU from the University of North Carolina during Coach Moore's final season on Lombardy Street.
Senior guard Willard Coker went on to serve as Coach Robbins' assistant coach for many years, and eventually succeeded him as head coach.
The path: The Panthers won the NCAA South Atlantic Region at the University of Maryland-Baltimore County by defeating Mount St. Mary's University and host UMBC.
VUU then won the quarterfinal at a jam-packed Barco-Stevens Hall on the VUU campus, defeating New Hampshire College.
At the Final Four held at the Springfield Civic Center in Massachusetts, VUU defeated Florida Southern College in the semifinals and New York Tech in the final.
Tournament Most Outstanding Player: Valentine.
All-Tournament: Larry Holmes, the Panthers' center from Miami, Fla.
Team's final record: 26-4.
Leading scorer (for the full season): Holmes, average of 20.0 points per game.
Roster: Valentine, Holmes, Coker, Derwin Lilly, Dave Lewis, Michael Kinney, Tony Felder, Curtis Powell, Gerry McCants and Phillip Brown.
1992
VUU's famed "Cleveland Connection," responsible for the likes of Lamont Echols and Charles Oakley, rang the bell again in the form of 6-foot-10 Derrick "Big D" Johnson, who was among NCAA leaders in blocked shots and shooting percentage in 1992.
The path: The Panthers rolled through the NCAA South Atlantic Region in Fayetteville, N.C., with wins over Albany State University of Georgia and Johnson C. Smith University.
At the Elite 8, again in Springfield, Mass., VUU defeated Kentucky Wesleyan College, California State University-Bakersfield and local favorite University of Bridgeport of Connecticut.
Final record: 30-3.
Leading scorer (full season): Walter Hurd, 14.7; Hurd finished with 2,124 points for VUU and Johnson C. Smith combined.
Tournament Most Outstanding Player: Johnson.
All-Tournament: Reggie Jones, from Richmond's John Marshall High School.
Roster: Johnson, Jones, Hurd, Warren Peebles, Robert McKie, Tim Davis, Troy Phillips, Mike Mathews, Aaron Gosa, Vance Harmon, Theo White, Sam Potter, Terry Henderson and Eric Greer.
2005
There was a strong Richmond area flavor to the Panthers' roster 15 years ago, with Luqman Jaaber from George Wythe High School, Steve Miller from Huguenot High School, Duan Crockett from Thomas Jefferson High School and Ralph Brown from Monacan High School.
Jaaber, the consummate floor leader, averaged 12 points, five assists and three steals and later became a VUU head coach.
The Panthers flashed signs of greatness early on with a preseason victory at Virginia Commonwealth University.
The path: The Panthers roll through the NCAA South Atlantic Region at Bowie, Md., by dispatching Catawba College of North Carolina, the University of South Carolina Upstate and host Bowie State University.