3 former NFL players to join CIAA Hall of Fame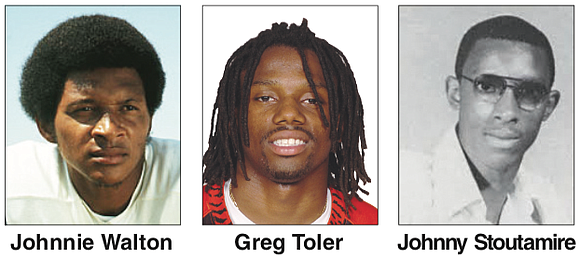 Three former NFL players will be among the inductees into the CIAA's 2021 John B. McLendon Hall of Fame.
Johnnie Walton, Greg Toler and Johnny Stoutamire Jr. will be recognized along with three other honorees at the Feb. 26 virtual presentation via the CIAA Sports Network.
Walton starred as a quarterback at Elizabeth City State University from 1965 to 1968 and was on the roster of the Los Angeles Rams from 1969 to 1972. He also played for several other minor league pro squads.
Greg Toler was a three-time, All-CIAA defensive back for the former St. Paul's College in Lawrenceville. He was recruited to St. Paul's by then-Coach Willard Bailey.
Selected by the Arizona Cardinals in the fourth round of the 2009 draft, Toler competed in the NFL for the Cardinals, the Indianapolis Colts and Washington, accumulating eight interceptions.
Stoutamire starred at linebacker for Livingstone College from 1974 to 1978 and later earned NFL spots with the Buffalo Bills, the Pittsburgh Steelers and Washington.
Other Hall of Fame Class of 2021 inductees:
• Cassie King, a three-time, All-CIAA basketball standout at North Carolina Central University from 2004 to 2007.
• Coach Kenny Phillips, who posted a 57-35 record as football coach at Fayetteville State University from 2000 to 2012.
• Celeste Trahan-Davis, a former Elizabeth City State University basketball standout who finished her career with the Vikings as the CIAA's fourth all-time scorer (2,151 points) and second all-time rebounder (1,542).
Since its inception in 1969, the CIAA Hall of Fame has enshrined 293 luminaries. It was named in honor of noted bas- ketball Coach John B. McLendon in 2000.