Faith leaders, elected officials call for calm, respect for Muslims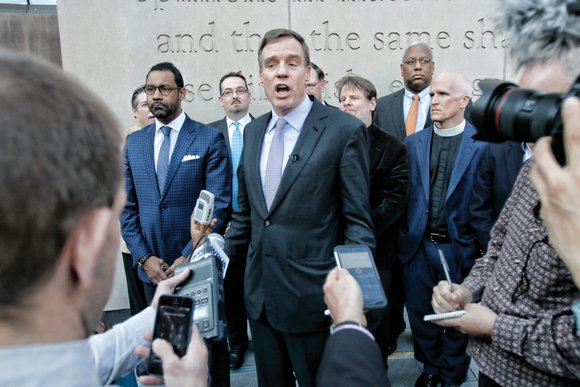 Imam Ammar Amonette said he and the 2,000 members of his congregation at the Islamic Center of Virginia in Bon Air have seen the ugly face of hate in the wake of the recent terror attacks by Muslim extremists in San Bernadino, Calif., and Paris.
"It's been ongoing," the thoughtful imam told the Free Press of anti-Islamic incidents.
Imam Amonette and a group of Muslim, Christian and Jewish faith leaders and U.S. Sen. Mark Warner held a news conference last Friday outside the Valentine First Freedom Center in Shockoe Bottom to promote religious tolerance and call for an end to anti-Muslim rhetoric.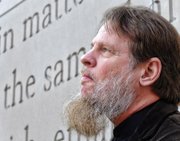 Among the hate incidents members of his congregation have experienced in recent days:
• Someone left Nazi leaflets with swastikas on the grounds of the Islamic Center at 1241 Buford Road in Bon Air.
• A man in a car yelled, "You're a terrorist! Go home!" to a young girl wearing a burka as she was getting off a school bus.
• A group of men physically accosted a woman who works for the federal government in Downtown as she walked to her car.
Surrounded by the faith leaders, Sen. Warner called for calm and respect for the Muslim community as he stood before a monument to Thomas Jefferson's religious freedom statute at the center.
"This statute guaranteed religious freedom in Virginia and those same principles were built into our Constitution and our Bill of Rights," he said.
"Some would say those freedoms are under attack today," he continued. "And as an elected leader, and most importantly, leaders of faith, we want to stand up and reaffirm the principles that make America unique."
He said he understands that people are afraid because of the latest terror attacks. But he talked about several actions taken to improve national security, including tightening the visa waiver and finance programs.
But he said he will make a global commitment, as well as to those within the local community, to stem terrorist activity.
"We also need to make sure that we work with our faith leaders, particularly the Muslim-American community, to ensure that if you see a family member or a friend in the process of being radicalized, that you have faith enough in our law enforcement system that you can step forward in a way where someone will be treated with respect and within the due process of law," he said.
Earlier in the day, Imam Amonette attended a rally in Bon Air, where about 60 people showed their support for the mosque and its congregation and called for religious tolerance.
At the religious freedom center, Imam Amonette said, "There are a lot of people in our community who are recent citizens or immigrants to the United States and they may feel that maybe they don't know what their place is in this society — whether they are welcome or not.
"It really means a lot to them that people came out to support them," he added.
He called GOP presidential candidate Donald Trump's anti-Muslim comments "very hurtful" to Muslim-Americans.
"That really undermines for us what it means to be Americans," he said.
State Sen. A. Donald McEachin of Henrico County, who also is an ordained minister, concurred with that sentiment. "We reject the (hateful) notions of Muslims expressed by Donald Trump and some others. Religion is not, nor ever should it be, a wall that separates people from this land," he said.
The Rev. Roscoe Cooper III, pastor at Sixth Mount Zion Baptist Church in Henrico County and a recently elected member of the Henrico School Board, said the African-American community knows how the Muslim community feels.
"We experience terrorism on a daily basis," he said of ongoing bigotry in the criminal justice system, educational inequity and legislative policies designed to turn back African-American gains.
"As African-Americans and Christians, we stand with our (Muslim) brothers and sisters and we support you," Rev. Cooper said.
Imad Damaj of the Virginia Muslim Coalition for Public Affairs said Islamic leaders have repeatedly denounced acts of terrorism and will continue to do so.
"Regardless of their motives and who they claim they are, they have nothing to do with us," he said.
Another group of leaders from 15 faith and faith-based organizations is holding a news conference 3:30 p.m. Thursday, Dec. 17, at the Islamic Center of Virginia in Bon Air.
That news conference, called "Standing Together," also is to express unity "in response to Islamophobia, xenophobia and divisive rhetoric," according to organizers.
The public display of support locally is designed to counter a wave of anti-Islamic rhetoric and hate incidents that are spreading across the nation. Those include a fire set outside a Southern California mosque last Friday. Police have arrested a 23-year-old man suspected of setting the blaze at the Islamic Society of the Coachella Valley, authorities said last Saturday.
Separately, a pig's head was thrown from a moving vehicle at a Philadelphia mosque Dec. 7. No arrests have been made in the incident. The incident was captured on video and went viral.
President Obama, Democratic presidential front-runner Hillary Clinton and other leaders have alleged the hate incidents are sparked by the inflammatory rhetoric used by public figures such as Mr. Trump, who on Dec. 6 called for a "total and complete shutdown of Muslims entering the United States."
In a Dec. 6 address to the nation from the Oval Office, President Obama urged Americans not to "turn against one another" out of fear.
"It is the responsibility of all Americans of every faith to reject discrimination, to reject religious tests of who we admit into the country, and to reject proposals that Muslim-Americans should somehow be treated differently, because when we travel down that road, we lose," he added.