In wake of terror attacks
Kaine: Will you hold on to your principles, faithfulness?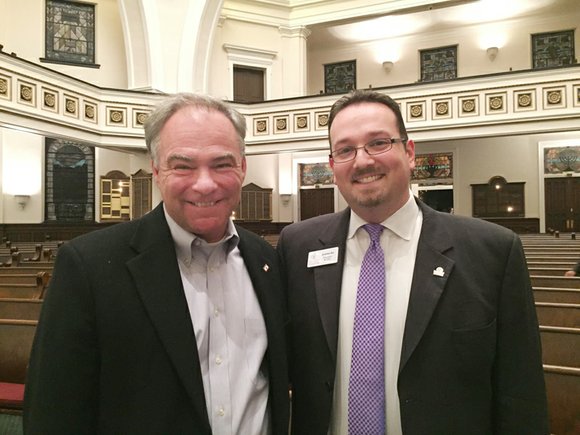 Religious leaders and community members of various faiths exchanged smiles, hugs and well wishes as they made new acquaintances Sunday at Congregation Beth Ahabah near Virginia Commonwealth University.
Several hundred people gathered at an event designed to promote religious tolerance and nonviolence. Many wore the head coverings of their religions — Muslim women wearing hijabs, Sikh men in turbans and some Jewish men wearing kippahs.
The occasion was the first "Standing Together" faith unity gathering organized by the Virginia Center for Inclusive Communities.
"Our board and partners felt strongly that the community must stand together at this time in response to increasing Islamophobia, xenophobia and divisive rhetoric," Jonathan Zur, the center's CEO and president, told the Free Press.
Dr. Imad Damaj of the Virginia Muslim Coalition for Public Affairs sounded a hopeful note prior to the event that featured an address by U.S. Sen. Tim Kaine, a panel discussion and small group dialogues.
"If we can gradually get this into the DNA of our communities, to get together to know each other, to build bridges, I think it will be the greatest thing to happen to Richmond," Dr. Damaj said.
The public display of support was designed to counter a wave of anti-Islamic rhetoric and hate incidents spreading across the nation in the wake of recent terrorist attacks in Paris and California.
"This is part of our effort to strengthen our community with bonds of friendship and respect," said Rabbi Martin Beifield of Beth Ahabah in opening remarks.
"Meetings such as this represent the real spirit of our community," added Imam Ammar Amonette of the Islamic Center of Virginia.
In his 10-minute address, Sen. Kaine told the audience he had returned Saturday from a trip overseas with a congressional delegation that included foreign leaders. Turkey President Abdullah Gul, he said, asked him, " 'Why is there so much hostility against Muslim-Americans and against Islam?'
"I told him, 'Just because presidential candidates are saying some things, let me tell you about the event that I'm going to Sunday,' " he said, as the audience applauded.
"There are people of goodwill who are standing together and it's not just in Richmond, but it's all over the United States," Sen. Kaine said he told the Turkish president.
He noted the terrorist attacks on 9/11 and in Paris, saying, "So much of this is about suffering, and when there's suffering, people look for an explanation, and then they want to blame someone."
Sen. Kaine urged people of all faiths to unite and take a stand against bigotry and religious intolerance.
In doing so, he recalled the "radical" biblical story of Job, in which God allows Satan to take away Job's wealth, his family and his health.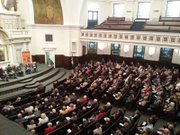 "He argues with God, but he doesn't give up his faith," Sen. Kaine said. "It was a test to see whether he would be true to his principles.
"So, we suffer 9/11 and terrorist attacks in Paris," the senator added. "Are we going to stay true to our principles? We have this nation that is built on notions of equality for all, notions of the beauty of all religions and religious tolerance.
"Under stress, will you still hold on to your faithfulness? Will you still hold onto your principles?" he asked.
Dr. John W. Kinney, dean of the Samuel DeWitt Proctor School of Theology at Virginia Union University, told the audience, "It is tragic that the greatest sanctioners of cruelty in the world today are religious people, and that the fundamental injustices that have broken the fabric of the human community have so often been supported or generated by those who profess faith in God," he said.
He said people of faith should respect one another's religious beliefs and work together for a better society.
Imam Amonette agreed. "The best way to honor one another's religions is to find avenues of justice, equality and human rights and work together for a world of peace and prosperity for all," he said.