New Air Force rules allow turbans, hijabs and beards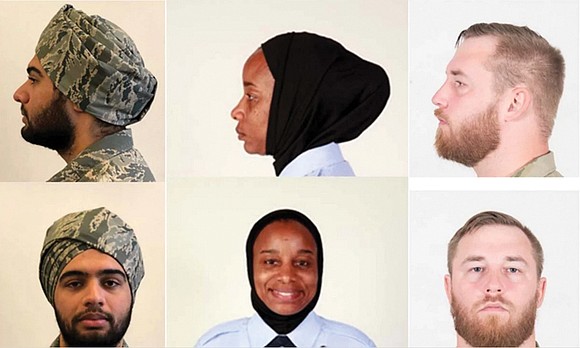 Muslim and Sikh advocacy groups are welcoming new guidelines issued by the U.S. Air Force allowing personnel to request a waiver to wear religious apparel, including turbans and hijabs, and to have unshorn hair or beards for religious reasons.
The updated policy, published Feb. 8, states beards and head coverings must appear "neat and conservative." It also states that requests for waivers to wear religious apparel can be denied only if the policy "furthers a compelling government interest" and is the least restrictive way of furthering that interest.
Advocates said they view the revisions as a step forward for inclusion, though they ultimately promoted policies that would not require such waivers or exemptions.
"No Sikh American should have to choose between their religious beliefs and their career ambitions," said Giselle Klapper, an attorney for the Sikh Coalition.
"Sikhs have served honorably and capably in the U.S. Armed Forces and other militaries around the world," Ms. Klapper said. "And while we are eager for a blanket proclamation that all observant Sikh Americans can serve in every branch of the military without seeking accommodations, this policy clarification is a great step forward towards ensuring equality of opportunity and religious freedom in the Air Force."
The Sikh Coalition said its client, Airman 1st Class Gurchetan Singh, became the first Sikh American to receive an accommodation to serve in the Air National Guard. The organization requested the accommodation on his behalf in April 2019 and it was approved by September 2019.
"Their legal assistance means that I won't face discrimination as I step up to serve," Mr. Singh said. "I'm proud to help clear the way for other Sikhs who may want to join the U.S. Air Force by demonstrating that we can serve honorably while maintaining our articles of faith."
The updated policy allows airmen who receive accommodations to wear beards of any length rolled or tied to a maximum of 2 inches below the chin. Turbans and hijabs must be made of a "subdued material in a color that closely resembles the assigned uniform," and designs other than a camouflage pattern are prohibited, the policy states.
In 2014, the Pentagon revised its policies to provide similar religious accommodation for military personnel, and in 2017, the U.S. Army became the first service to allow Muslims and Sikhs in uniform to wear head coverings and beards.
"We support these new guidelines as a step toward religious accommodation and inclusion for military personnel of all faiths," said Ibrahim Hooper, a representative of the Council on American-Islamic Relations. "Thousands of American Muslims and members of other minority faiths serve in our nation's military and should be able to practice their faith while serving."
In 2018, Staff Sgt. Abdul Rahman Gaitan became the first Muslim airman to receive a beard waiver for religious reasons.
In December, the Air Force commissioned its first female Muslim chaplain, Saleha Jabeen.