Postage stamp to honor poet Maya Angelou
3/5/2015, 7:49 a.m.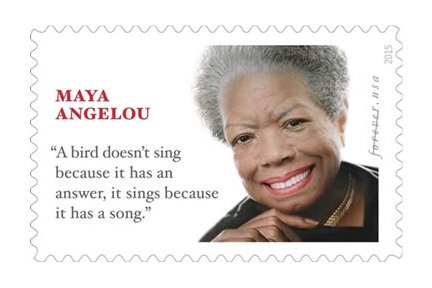 The U.S. Postal Service will honor Maya Angelou, the beloved late poet, author, educator and champion of equality, with a Forever Stamp.
"Maya Angelou inspired our nation through a life of advocacy and through her many contributions to the written and spoken word," said Postmaster General Megan J. Brennan. "Her wide-ranging achievements as a playwright, poet, memoirist, educator and advocate for justice and equality enhanced our culture."
The Postal Service will preview the stamp and later provide details on the date and location of the first-day-of-issuance ceremony, Ms. Brennan stated.
Dr. Angelou, who died in May 2014, wrote more than 30 books of fiction, poetry and memoir during her prodigious career. She also was a Tony-nominated stage actress, a Grammy Award winner, civil rights activist, streetcar conductor, singer, dancer, movie actor, director and playwright.
In 2011, President Obama bestowed on her the Presidential Medal of Freedom, the country's highest civilian honor.
Dr. Angelou was the Reynolds Professor of American Studies at Wake Forest University for more than three decades.