Overall crime down in Richmond during pandemic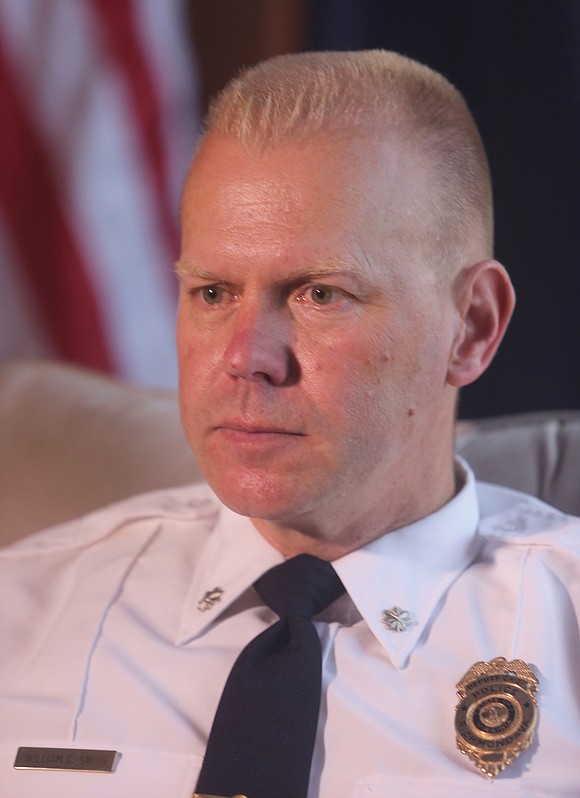 One silver lining during this pandemic is a reduction in crime, according to Richmond Police Chief Will Smith.
In an interview Friday, Chief Smith said that reported major crimes dropped 26 percent in April compared with the same period in February and March — a sign that even criminals might be paying heed to the warnings about the coronavirus and staying home.
That doesn't mean crime has taken a holiday in the Capital City. For example, homicide already has claimed three lives this month, nearly one-sixth of the 17 people who have been shot, battered and knifed to death so far this year, according to data posted on the Richmond Police Department's website.
Still, there have been fewer rapes and robberies reported in the first four months of the year compared with the same period a year ago, the data show. A review of the data indicates that the biggest decreases between March and April have occurred in felony assaults and thefts, as well as in the category of other crimes that includes offenses ranging from vandalism to hit-and-runs.
During the first 21 days of April, the department received reports of 255 thefts of property. That is 31 percent fewer than the 368 property thefts reported during the first 21 days of March.
So far in April, 164 assaults have been reported, 23 percent fewer than the 213 assaults reported in the first 21 days of March.
In the category of other crimes, 1,028 were reported in the first 21 days of March, but only 709 in the first 21 days of April, a 31 percent drop.
For Chief Smith, the pandemic also has meant more officers have been available to respond and fewer officers have been tied up testifying in court, with judges postponing many of the cases.
He also noted the department's rank and file has largely remained healthy.
Chief Smith reported that he has about 655 sworn personnel available for duty of the 755 officers he is authorized, which he described as typical for the department. Of the 100 others on the department's roster, 28 are recruits in training. Others are out on scheduled holiday leave, on the bench for disciplinary reasons, away on military service, on medical leave for other reasons than the virus or unavailable for other reasons.
"Overall, I think our department is in pretty good shape," Chief Smith said.
He is keeping his fingers crossed that the downward trend in overall crime continues.