NFL continues Black coaches blackout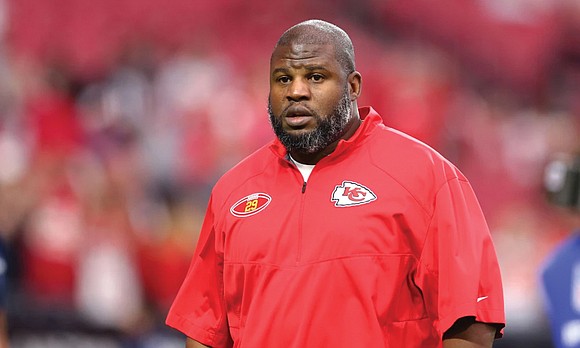 Due to the NFL's "Rooney Rule," mandating minority opportunity, Black candidates are always interviewed for head coaching jobs. Rarely are they hired.
Here are some other Black coaches who may figure into the current interview process:
Steve Wilks (current interim coach at Carolina); Raheem Morris (LA Rams defensive coordinator); Leslie Frazier (Buffalo defensive coordinator); Brian Flores (Pittsburgh senior assistant); Jim Caldwell (former head coach of Indy and Detroit);
Ken Norton (Seattle defensive coordi- nator); Pep Hamilton (Houston offensive coordinator); Charlie Strong (University of Miami assistant coach); Duce Staley (Detroit assistant);
Antwaan Randle El (Detroit receiv- ers coach); Ronald Curry (New Orleans quarterback coach); Troy Brown (New England receivers coach); Tee Martin (Baltimore receivers coach); Ike Hilliard (former Pittsburgh assistant coach, now at Auburn University).
There are likely others with the list always starting with Eric Bieniemy.
Bieniemy is the NFL's next head coach in waiting .... and waiting ... and waiting.
The highly regarded Kansas City Chiefs offensive coordinator was recently interviewed for the head position with the Indianapolis Colts.
It marked Bieniemy's hard-to-believe 15th interview, with 14 different teams, over the last four years. And more are likely this go-round with some five franchises searching for the right man to lead their team.
The Colts are coming off a 4-12-1 disaster. Frank Reich was fired Nov. 7 as coach and replaced by interim Jeff Saturday.
There are other openings in Carolina (Steve Wilks, who is Black, is interim), Denver (Sean Payton is favorite), Houston and Arizona. Bieniemy, 53, could be interviewed by all.
Since becoming KC's offensive coordinator in 2018, the Chiefs attack has consistently been among the NFL's most explosive. KC won the Super Bowl Feb. 2, 2020, and is the AFC's top seed in this year's playoffs.
Currently, there are only three Black coaches on solid footing — Mike Tomlin in Pittsburgh, Todd Bowles in Tampa and Michael McDaniel in Miami. The Black coaching fraternity lost another when Lovie Smith was fired by Houston.
Clearly, Black head coaches are on the outside looking in for NFL top jobs. Other than that, why hasn't some franchise taken a chance on Bieniemy, whose credentials are glowing?
There are questions that Bieniemy is riding on the coattails of KC head man Andy Reid, one of the NFL's most successful coaches, and other-worldly quarterback Patrick Mahomes, perhaps the league's top player.
If so, how might he fare alone?
Time will tell. And for Bieniemy, the waiting game continues.