26-0
JM's basketball dominance excites crowds, community
John Marshall High School's boys' basketball team is heading into the State 2A Finals with enough momentum to move a mountain.
"I think that if we come to play, good things will happen," said Justices Coach Ty White.
JM, now 26-0, certainly "came to play," and then some in regionals and the state quarterfinals.
Probably never in the history of the VHSL playoffs has a team looked more dominant. The Northsiders swept through the Regionals by routing Prince Edward 124-41, Thomas Jefferson 104-47 and Brunswick 113-51.
Then came a 98-27 rout of Strasburg on March 3 at Huguenot before a packed house. The semis were Monday against Brunswick.
JM will play Radford in the finals 6:30 p.m. Saturday, March 11, at VCU's Siegel Center. The Class 2 boys will follow the Class 2 girls final at 4:30 p.m.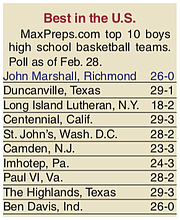 "We're excited and I think the city of Richmond is, too," Coach White said. "We've been getting sellout crowds."
By tipoff, there were no empty seats (or standing areas) at Huguenot on March 3 for the mismatch with rural Strasburg from the Shenandoah Valley.
The most excitement came during halftime of the girls' game when the JM boys put on a high-wire dunking show worthy of the NBA Slam-dunk Contest.
They saved some dandy ones for the actual game, too, with about 14 various stuffings.
Coach White said he and his team are wondering about their "place in history," regarding the greatest teams ever from Richmond area and around the state.
Coach White asked a veteran reporter how he thought the current Justices would stack up against the 1973 and '74 Petersburg teams, with Moses Malone, that went 50-0.
Coincidentally, Coach White played for Petersburg many years after the Malone era.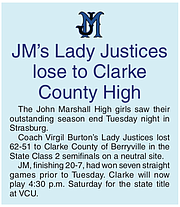 The long-ago PHS teams had many one-sided victories, but did have to work hard at States at the University of Virginia. The '73 Wave defeated Halifax, 59-51, in the Group AAA finals while the '74 PHS squad edged West Springfield, 50-48.
Another team that might be considered for "best all-time" might be the 1975 state champion Thomas Jefferson Vikings, coached by Dave Robbins.
TJ featured Keith Valentine (who signed with North Carolina), Otis Fulton (Virginia), Mike Perry (Richmond) and Monty Knight (VCU).
Then there was the George Wythe squad that lost to Cave Spring and NBA bound J.J. Redick in the 2003 AAA finals. Those Bulldogs featured Tyree Evans, Jesse Pellot-Rosa and 6-foot-10 Shawn Taggart.
There are others "best" contenders that could be talked about.
This year's Justices are led by 6-foot-7 senior Dennis Parker Jr. who has signed with North Carolina State.
Coach White calls Parker "the best player in Virginia without a doubt."
Parker, who broke into Coach White's lineup as a freshman, is so versatile he could be the best player on the floor at any position.
And get this: There may be "the next Malone"
in the making in 6-foot-8 JM freshman Latrell Allmond, who already has multiple scholarship offers from some of the nation's top college programs.
Allmond, who is as athletic as he is towering, has been invited to the Team USA Mini-Camp to be held in Houston during the NCAA Final Four.
Junior guards Damon "Redd" Thompson Jr. and Dominique Bailey apply relentless defensive pressure often leading to transition scores.
And then there is springy, velvet-smooth 6-foot-6 Jason Rivera, a transfer from Queens, N.Y. Rivera can score from outside the arc and is likely the team leader in theatrical throwdowns. He's an alley-oop waiting to happen.
JM won last year's state title, defeating Radford 82-43 in the finals at the Siegel Center. It would appear the remaining schools in this year's State field (including Radford) are playing for second place.
If the Siegel Center was Skull Island, JM would be Kong.