JM's Justices win third state crown since 2018
Coach Ty White's team crushes Radford 91-34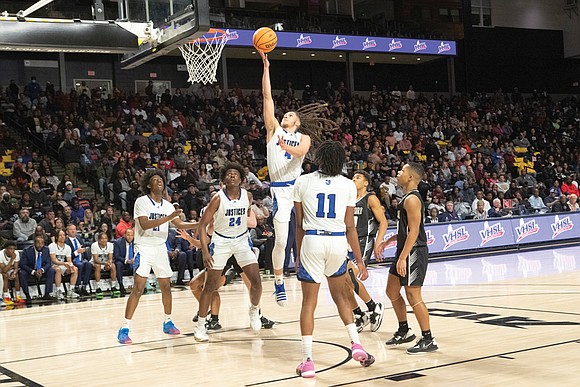 The Class 2 State final was more showtime than showdown.
Fans looking for a tense, hotly contested game were disappointed.
But if folks packed the Siegel Center to see for themselves what might be the best team in Richmond area history, they got their money's worth.
There were at least 10 dunks, many of the theatrical variety, among JM's 39 field goals. A partisan JM crowd of about 7,000 were highly entertained.
In a start-to-finish rout, Coach Ty White's Justices crushed Radford, 91-34, for their third State crown since 2018 and fourth since 2014.
"We knew as soon as we got on the bus we were beaten. We never had a chance," said Radford Coach Rick Cormany.
"In the history of the VHSL, I don't think there's ever been a blowout like this."
It could have been worse.
None of JM's starters played more than 24 minutes, and a running clock was used much of the fourth quarter. A total of 15 Justices saw action.
Dennis Parker and Latrell Allmond had 17 points each, Jason Rivera 15, Redd Thompson 12 and Dominique Bailey 10 as JM finished 28-0.
Quick reserve Damontique Hodge stole the spotlight in the late going, scoring seven in the final three minutes.
A 6-foot-8 freshman, Allmond is likely the best big man prospect to hit the 804 since Petersburg's Moses Malone in the early 1970s, and Benedictine's Ed Davis in the early 2000s. Allmond is more advanced as a ninth-grader than former JM centers Isaiah Tate and Roosevelt Wheeler.
Cormany, whose Bobcats finished 23-5, has won six State titles at Radford and is among the most respected coaches in Virginia.
"I've probably coached more than 1,000 games," he told the press. "And only twice did I know I had no chance to win–the two JM games (in '22 and '23)."
Afterward, Coach White praised his team's academic success, its unwavering work ethic ("We start practice at 6 a.m. each day.") and his 11 assistant coaches.
"I really didn't have to work that hard this season," he added.
The Justices looked as sharp off the floor as they did on it.
With help from Justin Fairfax, former lieutenant governor of Virginia, all the JM players, coaches and support staff traveled to VCU with tailored blue suits and ties.
Expect more of the same. There are just two senior starters. Parker, the likely Player of the Year in Virginia, is headed to North Carolina State.
Rivera, a transfer from New Rochelle, N.Y., is a smooth 6-foot-6 forward who has made recruiting visits to the likes of Vanderbilt, Florida Atlantic and San Diego.
Thompson and Bailey, the dynamic backcourt, will return to continue the North Side's dominance. Both are mid-major Division I prospects, at least.
There remains a possibility JM has more games to play, which would be a first for any public school in the state.
With details uncertain, the Justices may be playing in The Throne National Tournament at Morehouse College in Atlanta March 29 through April 1.
It is a 16-team, single elimination event co-sponsored by the NBA Players Association and Gold Level Entertainment.
That could mean more show-time.
"We started the season wanting to be No. 1 in Virginia," said Coach White. "Now we want to be No. 1 in the nation."