Commencement 2023
VCU, VUU, VSU graduates celebrate diligence, hard work and promising futures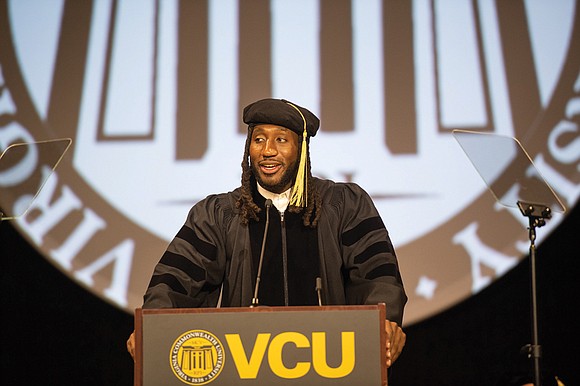 Mo Alie-Cox, who constantly brought excitement to Virginia Commonwealth University as a standout basketball player, brought that same energy during VCU's graduation ceremonies on Saturday at the Greater Richmond Convention Center.
"You guys should be no strangers to hard work, or you wouldn't be here in these seats right now," said Mr. Alie-Cox, who now plays for the Indianapolis Colts in the NFL. "The satisfaction and happiness that you get from knowing you put the work in to achieve something and it actually happens is second to none. As you take the next steps of your journey, you're going to have to work even harder."
The ceremony honored VCU's approximately 4,700 spring graduates, including more than 3,000 earning undergraduate degrees, according to VCU's website.
Mr. Alie-Cox, who received an honorary doctorate of humane letters at the ceremony, told the graduates to always have faith that their goals are attainable. He revealed that at one point early in his NFL career he questioned if playing professional football was something he still wanted to do.
"Being young, you often want to see immediate success and for me that didn't happen right away," Mr. Alie-Cox said. "I had a talk with my mom, and she pretty much told me to finish what you started and have faith that everything will work out.
"A month went by, and I got called up to the active roster, and six years later I'm still there. I don't want to even know where I would be right now had I lost faith."
Dr. Faye Z. Belgrave received the Presidential Medallion during the ceremony. The Presidential Medallion honors members of the university community for extraordinary achievement in learning and commitment to the mission of VCU. Dr. Belgrave is an internationally recognized author, teacher, researcher and equity advocate. She joined the VCU faculty in 1997 as a professor of psychology and was appointed associate dean for equity and community partnerships in the College of Humanities and Sciences in 2020.
---
Graduation ceremonies also took place May 13 at Virginia Union University and Virginia State University. Sen. Lamont Bagby of Virginia's 9th District delivered the 124th commencement speech at VUU's Hovey Stadium. During his speech, the newly elected state senator often became emotional as he spoke about VUU's history and being asked to deliver the commencement address. VUU awarded Sen. Bagby an Honorary Doctor of Laws in recognition of his public service.
Sen. Bagby currently is the chair of the Virginia Legislative Black Caucus. Prior to his senatorial term, Sen. Bagby was elected to the Virginia House of Delegates, where he served for eight years. He also is a former member of the Henrico County School Board and the Norfolk State University Board of Visitors.
---
Meanwhile, Harry Black, city manager of Stockton, Calif. and a Virginia State University alumnus, was the speaker for VSU's spring 2023 graduation ceremonies. The university graduated nearly 600 students in ceremonies at its Multi-Purpose Center. Mr. Black served as a member of the VSU Board of Visitors from 2010 until 2018, and as the rector of the board from 2013 to 2018. Before becoming city manager of Stockton, Mr. Black, a VCU alumnus, served in several executive municipal posts including chief financial officer for the City of Richmond from 2005 to 2008.