Fourth-seed VUU takes on Kutztown University
Fred Jeter | 11/16/2023, 6 p.m.

Virginia Union University's 10th football victory was much like its first nine. The Panthers flexed their muscles and showed total domination.
Moving on to this Saturday, an 11th win might be harder to dig their claws into.
After defeating Fayetteville State, 21-10, for their first CIAA crown since 2001, the Panthers (10-1) now travel to Kutztown University, Pa., in Super Region 1 NCAA Division II playoffs.
Kickoff is set for noon.
The Panthers, who were moved by the NCAA Selection Committee from Region 2 to 1, are seeded fourth and will travel 274 miles north to third-seeded Kutztown.
The Golden Bears are 9-2 and champions of the rugged Pennsylvania Intercollegiate Athletic Conference. Kutztown is a state-supported school with about 8,000 students.
To make the 28-team playoff field, VUU had to take care of business at Salem Stadium before a crowd of about 5,500 and a national HBCU Go TV audience.
History suggests it won't come as easy for VUU this Saturday at Andre Reed Stadium in Eastern Pennsylvania.
Despite an outstanding program over many decades, VUU is 0-10 in NCAA playoff games, dating to 1979.
The VUU-Kutztown winner will play the survivor of Charleston, W.Va., vs. New Haven, Conn., in the Region semifinals Nov. 25.
Full control: Never veering, the Panthers stayed in the driver's seat in Salem, collecting 20 first downs to the Broncos' seven, and 222 yards to FSU's 130.
VUU had the ball for 39 minutes, 28 seconds compared to 20 minutes, 32 for the Broncos. FSU's lone TD came on a 91-yard kickoff return by Barry Elliott with 47 seconds to go before halftime.
This was typical VUU dominance. On the season the Panthers have 412 points to the opponents' 128.
The victory avenged VUU's only loss Sept. 23, a drenching 10-7 setback to FSU in a tropical storm at Hovey Field.
Heavy lifting: VUU, as usual, relied on running back Jada Byers in Salem. The junior carried 40 times for 135 yards and a pair of touchdowns behind a powerful and relentless offensive line.
"Normally I take two ice baths a day … after this I'll take three," Byers told the media.
He was an easy choice as Player of the Game.
Despite missing two full games and parts of two others this season, Byers has 1,085 yards overland with 15 TDs.
The VUU record for most totes in a game is 42, set by Elihu Smith in 2005 and Jerell Washington in 2011.
Memories: Coach Parker (an alumni VUU running back) says, "I'm just happy, that's all I can say … I was here in 2001 when we went down to Winston-Salem and won it … I remember how it felt then, but this is a little bit better.
"I'm the leader of the program now, and I felt I was leading us in the right direction. All the kids bought into the process, but it wasn't easy.'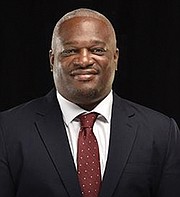 Team success has translated into individual honors for the Panthers. The CIAA awards were announced prior to the CIAA Championship Game.
VUU's Parker was named CIAA Coach of the Year.
Selected All-CIAA were tight end Kalen Carver, offensive linemen Justin Meade and Jamaree Moyer, running back Byers, place kicker Brady Myers, defensive lineman Isaac Anderson and linebacker Shamar Graham.
Offensive lineman Mathias Nielsen was named to the second team, making him the first player from Denmark to be so honored.
Meade was named Offensive Lineman of the Year and Myers Special Teams Player of the Year.