VUU's transfers plan to make a difference in Saturday's game against VSU
Coming out of high school, Robert Osborne and Keleaf Tate took the scenic route in arriving at Virginia Union University.
Osborne took in the sights of Hampton Roads, while Tate was taking time to enjoy the splendor of Niagara Falls.
Travels aside, VUU Panthers Coach Jay Butler is just glad Osborne and Tate made Barco-Stevens Hall their final basketball destination. The talented transfers have helped VUU to a 9-3 overall record and a 2-0 mark in CIAA play.
PantherNation is hopeful this will be the program's best season since 2018, when it claimed its last CIAA title.
Osborne, VUU's "Wizard of Os," is a broad-shouldered, 6-foot-5, 230-pound forward who isn't afraid to flex his considerable muscle near the hoop.
"Robbie can really score that ball inside the paint," Coach Butler said. "I think he has a chance at All-CIAA."
The former standout at Hermitage High School in Henrico County came to VUU following two seasons at NCAA Division I Hampton University.
Tate is a versatile 6-foot-3, 210-pound guard who attacks from all over and, according to Coach Butler, "has never seen a shot he didn't like. He lives for the big shot."
Tate wears jersey No. 0 but he's anything but a zero in terms of contribution. On Dec. 8, his buzzer-beating shot took down home-standing Shepherd University of West Virginia 56-54.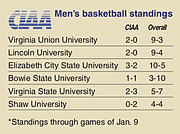 From Washington's Cesar Chavez High School, Tate played (starting 28 games) two seasons at NCAA Division I Niagara University in New York before opting for VUU.
Osborne and Tate had been on Coach Butler's radar for years. He recruited both out of high school, offering them scholar- ships to VUU.
"We kept in touch," Coach Butler said. "We try and maintain relationships with all the kids we recruit and keep a database, especially on the ones who start off at Division I."
Both sat out the entire 2020-21 season at VUU as the CIAA took a pause due to the pandemic.
Starting this week, Osborne led the Panthers in scoring at 10.5 points per contest, with Tate next at 9.8 points.
Osborne has scored double digits in six straight games, with a high of 21 points in the Panthers' overtime loss at Nova Southeastern University (the fourth-ranked school in NCAA Division II) and 22 points against Bluefield State College in the first game back from the holiday break.
The burly post player is hitting 57 percent from the floor and is among the rebounding leaders with 4.3 per game.
Tate has three consecutive double-figure outings, while averaging 2.9 rebounds and 2.5 assists. Always a threat from afar, he is hitting 38 percent from beyond the arc.
"I'm old friends with Keleaf's high school coach and have been watching him since he was about in ninth grade," said Coach Butler, a D.C. native himself.
Osborne is the latest in a decades-long line of Richmond area players to shine for VUU.
Just for starters, Keith Valentine (Thomas Jefferson High School) was MVP of VUU's 1980 NCAA championship team. Luqman Jaaber (George Wythe High School) was captain of VUU's 2005 national championship team.
Reggie Jones and Warren Peebles (John Marshall High School) were headliners on the 1992 NCAA winning team. There are many, many more.
As with most schools, VUU has been forced to postpone some games due to the pandemic. They are in the process of being rescheduled.
---
On Saturday, Jan. 15, VUU will be taking on one of the CIAA's hottest players in Virginia State University's Terrence Hunter-Whitfield.
The 6-foot-5 junior starred at Matoaca High School and played at Massanutten Military Academy and at Catawba College in North Carolina before transferring to VSU. He is a second-generation Trojan. His dad, Ricky Whitfield, played for VSU in the early 1990s.
Hunter-Whitfield has been on a tear for the Trojans, who are 5-7 overall and 2-3 in the CIAA.
Hunter-Whitfield exploded for 31 points in VSU's 90-88 loss to Winston-Salem State University on Jan. 6 and then clicked for 28 points in the Trojans' 68-65 win over Livingstone College on Jan. 8.
In the two games combined, Hunter- Whitfield was 17-for-32 from the field, 8-for-13 from beyond the arc and 17 for 23 at the foul line.
He also snagged 20 rebounds in the two games combined.